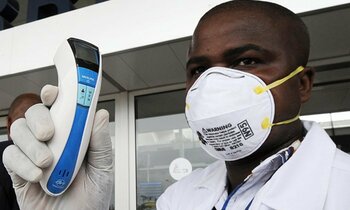 HEALTH
Nine African countries including Uganda have agreed to establish a joint task force to aid surveillance and the management of the Ebola Virus Disease (EVD)
The countries which have been on high alert since the outbreak of the disease in the Democratic Republic of Congo (DRC) in August last year, also agreed to step up coordination efforts.
They include; Angola, Burundi, Central Africa Republic, DRC, Rwanda, South Sudan, Uganda, Tanzania and Zambia.
The coordination efforts according to a communique signed by the nine countries include; information sharing on potential security threats, cross border EVD case and laboratory surveillance cross border tracing and monitoring of contacts as well as workforce capacity development.
Others are; sharing of technical expertise and other resources, cross border joint planning and implementation of preparedness and response activities, movement of people across national borders in accordance with the international health regulations and legal and regulatory processes for cross border deployment.
The establishment of the Africa Ebola Coordination Task Force (AfECT), that will be hosted at the African Union secretariat in Addis Ababa, Ethiopia, was agreed upon on Monday by the nine-member states during a meeting that took place in Goma, DRC.
Health Minister Dr Jane Ruth Aceng who attended the meeting said the task force will have political oversight over outbreaks like Ebola while the World Health Organisation (WHO) will maintain the technical capacity and advise that it gives to the countries.
"We embrace this aspect of having an African Ebola coordination task force so that all partners that are supporting the country that has an outbreak are well-coordinated and this will subsequently help us avoid wastage of resources," Aceng said.
Although Uganda does not have Ebola currently, Aceng said the country remains alert, knowing that the disease exists in neighbouring DRC.
WHO, in its emergency committee meeting on Friday last week in Geneva, said EVD in DRC remains an "urgent" global health emergency.
As a result, WHO director-general Tedros Adhanom Ghebreyesus said the public health emergency will be maintained for an additional three months.
"This outbreak remains a complex and dangerous outbreak," he said, deploring the lack of funding.
DRC's latest Ebola epidemic, which began in August 2018, has killed 2,144 people, making it the second deadliest outbreak of the virus, after the West Africa pandemic of 2014-2016.
The status of a global health emergency is an exceptional measure that has been used by the WHO four times: in 2009 for the Swine flu virus, in 2014 for polio, in 2014 for the Ebola epidemic which killed more than 11,000 in Liberia, Guinea, Sierra Leone and in 2016 for the Zika virus.
What is Ebola?
Ebola Virus Disease is a haemorrhagic fever that is highly infectious and is transmitted by direct contact with the blood, body fluids and tissues of infected persons.
Transmission of the Ebola virus has also occurred by handling sick or dead infected wild animals (chimpanzees, gorillas, monkeys, forest antelope, fruit bats), according to WHO.
It is also a severe acute viral illness often characterised by the sudden onset of fever, intense weakness, muscle pain, headache and sore throat.
This is followed by vomiting, diarrhoea, rash, impaired kidney and liver function, and in some cases, both internal and external bleeding.
As the virus spreads through the body, it damages the immune system and organs and ultimately causes levels of blood-clotting cells to drop, killing up to 90% of people who are infected.