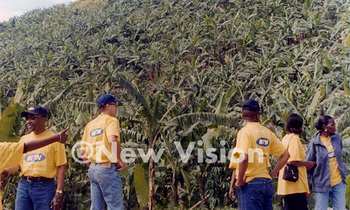 A LOOK THROUGH KALUNGI'S LENS

In the beginning, and that means the late 90s, MTN came to Uganda.

Of course there were brands before this, big brands, too. Like Bata and Coca Cola and all the beer brands. We knew they were there, and probably had some friends or colleagues working there. But it was no big deal.

And then along came MTN. Several personalities came together to make working in a corporation the coolest thing since sliced bread. There was Erik Van Veen, the South African working as the Marketing Manager. On his team were the likes of Aggrey Kangonyera, Phillip Besiimire, Patricia Sentongo, Van Veen's personal secretary Sheila Kangwagye and others that made up what many referred to as the 'dream team' of marketing.

They threw the best parties, and invited everybody. They became the 'happening people' of Kampala, and everybody wanted to be like them.




Corporate people became the country's celebrities, and featured almost every week in the mushrooming tabloids. We knew the type of cars they drove, who they hung out with, and who was dating who.

These MTN people used entertainment to sell the company to Uganda, and managed to be part of every big event happening. They carried out launches in each major town in the country, and it became the biggest party that town had ever seen. Some wag said they caused inflation wherever they went.

The Arua launch was quite a memorable one, for not only did eastern Congo also take advantage of the new network, some of the MTN staff acquired temporary 'Congolese wives'. Unfortunately they failed to leave town unseen, and some were pulled off the buses to answer for 'services' they had neglected to pay for.

MTN seduced the media wholesale, made them parties, and invited them to boat cruises. Some of the media folks started referring to themselves as the 'happening media', as opposed to the other, boring guys who did not hang out with the MTN people.


For many years MTN was one of the main sponsors of the rejuvenated Miss Uganda, and again carried the party to the regional pageants. At times it seemed the girl that won the 'Miss MTN' title was more visible than the actual Miss Uganda.
One of the popular entertainers at these pageants was the Obsessions dancing group, and up to now some of those MTN guys are still obsessed with the girls, and the women the guys. They were tabloid fodder, and they loved it.

Being among the corporate class meant the girls looked up to you, and no one was more corporate than the MTN guys and girls. The guys got all the girls, but the women scared off the usual Kampala guys who couldn't keep up with their style.

Like local funny guy Harry Sagara put it, "…Nga these guys enjoyed life. Someone would think the ladies would never get pregnant! And the men would never get hen-pecked!