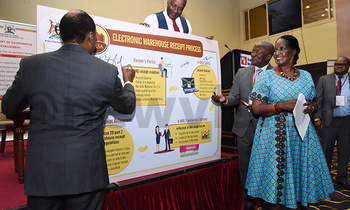 Industrialists have asked the government to help Uganda's business community improve their access to markets to neighbouring countries which have shown interest in Uganda's products.
Richard Mubiru, a member of the Uganda Manufacturers Association said Uganda has big potential to supply markers like DR Congo, South Sudan, Kenya.
This was during the 10th annual trade, industry and cooperative sector review held in Kampala.
"We need to consolidate the regional markets and consolidate the external markets. We need to improve roads to the neighbouring countries, build warehouses near the borders. We need insurance services to provide facilities to cover risks arising during the export of products. The region is volatile and exporters need insurance covers. The Insurance Regulatory Authority should create insurance facilities that speak to our needs as exporters, manufacturers, traders," Mubiru also the executive director for Sothern Range Nyanza Textile Lt said.
He also asked the government to change its bidding documents to favour SMEs otherwise money will be leaving the country through large foreign corporates. Mubiru proposed that NSSF funds should be used to provide long term funds for industries.
Massimo Diomedi Camassai, attache' trade and private sector development, European Union commended Amelia Kyambadde, minister for trade, industry, and cooperatives for her dedication and integrity in creating a clear trade policy for Uganda.
Camassai said Kyambadde has come up with a trade policy mix which covers the national market (Buy Uganda, Build Uganda) and harnesses the international market.
L-R: Minister of Trade,Industry and Cooperatives Amelia Kyambadde , the Minister of State for Cooperatives Frederick Ngobi Gume,the Chairman Private Sector Foundation Uganda Patrick Bitature and the Executive Director UNBS Ben Manyindo during the Ministry of Trade,Industry and Cooperatives annual joint sector review conference
He asked Uganda to add value to its exports and avoid exporting in raw form so that the country earns from exports.
Camassai who representing the development partners supporting the trade, industry and cooperatives sector in Uganda said they were supporting efforts in regional integration and the African Continental Free Trade Area.
Patrick Bitature, chairman Private Sector said Uganda needs to start consuming the electricity it produces to run industries that will create jobs. "We need to grow the demand for the excess supply of electricity. Industries have been doing so much with so little electricity," Bitature said.
Bitature in a keynote address criticized ministries, agencies and departments of government which he said were working in isolation. "Many government ministries have a tunnel vision, they don't know what the left hand and right hands are doing," Bitature said.
He asked the government to set up farm prices for agricultural and dairy products such as maize, beans, milk. He said farmers were in grinding poverty due to low prices paid for their products. He compared Uganda to Kenya, where he said the government sets a minimum price for farm gate prices to protect farmers from exploitation by middlemen and industrialists.
He said today the farm gate price of milk is sh400 per liter but wholesalers are selling it at sh3,000 per liter while retailers are selling it at sh3,000. He proposed that farmers should get at least sh1,400 per liter for them to stay out of poverty and misery.
He said stone pavers should be used to improve roads and terrains in local communities. He said stone pavers have been used successfully around shopping malls in Kampala and they can be used in rural areas.
"Mbale produces very good carrots, potatoes because of good soils. But when it rains you cannot go up the mountains or come down from the mountains, stone pavers can be used to road access in productive areas like in Mbale so that they benefit from their products and continue to produce, they lack appropriate infrastructure," Bitature said.
Bitature proposed that some of Uganda's rich traders in Kikuubo, Katwe should be mentored into starting and operating cottage industries so that they create more employment and lead to economic development.
Dr. Isaac Shinyekwa, a Senior Research Fellow at the Economic Policy Research Centre said industries in Uganda were not producing at maximum capacity, so there is production at only 48%. He said the production can be increased when the markets increase especially in the region.
Patrick Kayemba, chairman LCV Iganga representing Uganda Local Government Association said when commercial officers in districts were trained they were handicapped to perform their duties because of lack of capacity and resources to support commercial activities in districts.
Amelia Kyambadde, minister for trade and industry said Uganda's trade deficit in 2017/18 has widened by a gap of 35% from $2.1b to $2.8b. Kyambadde while opening the meeting said many interventions were in place to address the trade deficit, aimed at increasing export value while reducing import values.
She said these interventions include implementation of Buy Uganda Build Uganda Policy, promotion of cross border export zones, market expansion through regional and international trade agreements, promotion of trade in services and implementation of Electronic Single Window System.
Other strategies include setting up the trade information portal, Development of One-Stop Border Posts and non- tariff barrier reporting system and implementation of the National Export Development Strategy.
She noted that the total approved budget of the sector in 2018/19 was sh161.74 b including external funding representing 0.5% of the total national budget allocation.
"Supermarket shelf share space has grown from 20% to 40% for dry goods, and fresh goods from 30% to 70%. Sugar factories have gone up from three to seven functional and six are waiting licensing. Packaged water factories have grown from 13 to 74, pharmaceuticals increased from 12 to 38 factories and the SMEs sector has grown," Kyambadde said.
Dr Patrick Birungi, executive director Uganda Development Corporation said the increase in imports was due to the increase of imports of machinery to set up factories and was not a cause for worry. Birungi said machines are being imported from India, China by tea processors and various factories run by the private sector.
Dr Joseph Muvawala, executive director National Planning Authority said Cabinet has approved a new model for service delivery which will be program-based approach and focuses on delivering results and results based budgeting shifting from spending activities.