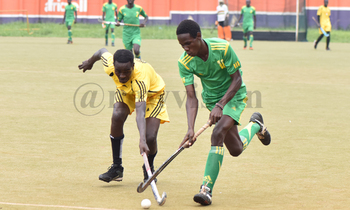 UgandaBaati Hockey League
Saturday
Men
Historicals v City Lions 5 pm
Women
Kampala v Weatherhead 3 pm
Sunday
Men
Rockets v Kampala1pm
Weatherhead v Wananchi 5 pm
Women
DCU v Wananchi 1 pm
The rivalry between Wananchi and Weatherhead men has grown to define the competitiveness of the UgandaBaati Hockey League.
With two league titles, Weatherhead is no longer just an emerging force but more than natural contenders.
Wananchi, the oldest and most successful club in Uganda are not comfortable with the ever-growing power of the 2017 champions.
The two sides meet tomorrow in a highly billed encounter at the National Hockey Stadium in Lugogo.
The game may mean everything to either side keeping in mind the competition is approaching to the business end.
They both know well that at this point, it is not the points you want, it is the points you get.
"It is indeed a tough one. This is honestly a defining moment. A win would launch us to a comfortable area. The boys know this and we seek to attain it" Vincent Kasasa, Weatherhead coach-player.
Weathead are leading the standings on 44 points after 16 games above second-placed Wananachi on 32 points but with three games in hand.
In part, the tie is shaped by a revenge narrative for Weatherhead who lost 2-1 to last week's winners of Independence Cup.
Nonetheless, Weatherhead remain unbeaten in the league and they beat Wananchi 2-0 in the first round and drew 2-2 in the second round.
EMAIL: kbalikuddembe@newvision.co.ug
TWITTER: @ casozi 14