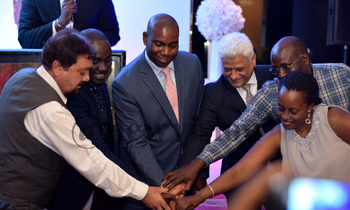 Party after party is the general mood in Kampala nowadays.
The Mutesasira siblings Esther and Ezekiel scooped musical gold, and Joshua Cheptegei enjoyed Athletics gold and now to balance the boat, Dicksons Kateshumbwa, the Uganda Revenue Authority (URA) Commissioner for Customs has scooped a new kind of gold in taxes.
As we wait to see whether URA will be kind to the Mutesasira's and Cheptegei by forgiving their humble winnings from taxes, one of the organisations decision-makers is counting his luck.
Guests serving themselves food
Katesh, as his close friends like to shorten his rather hard name is swimming in a sea of joy. He was recently elected as the first African to be chairman of the World Customs Organisation. In addition to heading the WCO, Katesh, will also head the association of African customs unions, effectively allowing him to be polygamous, at least corporately.
The man was smiling from ear to ear since he walked into Sheratons Victoria's restaurant. The sounds of Maddox were faint in the background as Conga drums of Janzi band lit up Friday night.
Clad in a greyish suit, light blue shirt, pink tie, and a permanent wide smile, Katesh was overwhelmed by hugs from Ben Mugasha of Bemuga forwarders and messages from Sikander Lalani of Roofings and other the top bosses under the Authorised Economic Operator (AEO) special status.
Kateshumbwa giving a speech
The room was crawling with top bosses from Ballore Logistics, British American Tobacco, Total, and Harris International among others who threw him a surprise party. "I never knew that people loved me like this," Katesh whispered.
Kateshumbwa takes a selfie with one of the guests
Katesh described how the humongous, four-engine Airbus A380 changed his life. Not only did it the turbulence taught him to be resilient and patient. The beauty of the plane also taught him to be consistent, to be a team player and to insist on competence.
Who knows how far Katesh will go when he tastes a better plane?