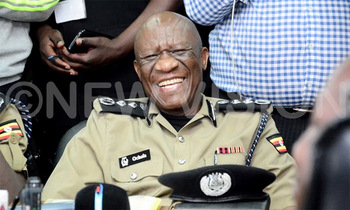 By Charles Etukuri

Panic has gripped residents of Mukono, Kampala, Wakiso and the surrounding districts following a spate of violent robberies. There have also been several homes and vehicle break-ins. But who is behind the surge in violent crime, why is it growing and how are the communities responding?

The public blames the Police for not doing enough to protect Ugandans. What strategy does the Police have to end crime?

On Friday, October 26, the Inspector General of Police (IGP), Okoth Ochola, called a special press conference, whose major aim was to address the country on the state of security, amidst stoking fears of an increase in crime.

In his message, Ochola called for calm, insisting the Police was in charge. "Generally, the security situation in the country is normal, except for a few isolated cases of criminality that we are firmly dealing with," Ochola said.

The increased criminal activities and murders are mainly perpetrated by panga (machete) -wielding men across different parts of the country.

Three days before Ochola's press conference, a prominent businessman, Archie Rwego had been attacked and killed at his home in Najeera.

Investigations by the Police revealed that a group of about five men took advantage of the heavy rain on Wednesday morning, cut the security fence and then scaled over the wall.

They then descended via a water sink on the compound wall fence. Once inside the compound, the assailants went after the barking dog and stabbed it to death, before they accessed the house through the back door.

After stabbing the deceased several times, the assailants took off with a television set and two handbags that contained an unspecified amount of money. Within the same week, there were other cases reported in Mukono district where people were attacked in their homes and others while their way back home at night by panga-wielding men.

Mode of operation

Investigations revealed that those carrying out the attacks almost had the same mode of operations. They would demand phones, money and other valuables.

In the Mukono, several residents have either been killed by the attackers, while others are nursing wounds.

The Ntenjeru-Kisoga town council chairperson, Robinson Kiyaga, said the first incident there happened on the night of October 12 at Nakasuku village, when unidentified men stabbed Abdul Mubiru, a bodaboda rider and his passenger, Joseph Kabanga, to death.

The duo was attacked at around 12:00 am. Their belongings, including the bodaboda, were found at the scene of the crime. Other victims were attacked by the assailants on their way home at around 9:00 pm.

A similar incident had also happened in Wakiso district and the Police are still hunting for 14 unidentified panga-wielding thugs who broke into a widow's house, hacked and hit her with a hammer on the head.

The Police identified the victim as Samsha Bakar, the wife of the late Zubair Bakar, formerly of the Front for National Salvation Army (FRONASA) and former resident district commissioner of Kalangala.

Preliminary Police investigations indicate that the thugs scaled the wall fence, shattered glass windows and used chain saws to cut through metallic burglar proofing. Using pangas and a heavy-duty hammer, they broke into her bedroom door.

Within the same week, unknown individuals circulated a hit list bearing names of 16 prominent individuals they claimed would be assassinated. The list was dropped on Wednesday last week at the home of Rubaga North MP Moses Kasibante.

The list contains the names of Buganda premier Charles Peter Mayiga, Kyadondo East MP Robert Kyagulanyi aka Bobi Wine and Kampala minister Bell Kamya

Others on the list include Sheikh Matovu (Muslim leader), Sadam Lukwago (city herbalist), Siraji Bakaleke (embattled former Kampala South Regional Police Commander) and Patrick Onyango (deputy Police spokesperson).

Others are Mukyala Bucyana, Muhammad Nsereko (Kampala Central MP), Sheikh Kibaate (deputy supreme Mufti), Erias Lukwago (Kampala Lord Mayor), Prince Nakibinge (Buganda prince/ Muslim leader) and MP Kasibante.

More attacks

Hardly a week after Ochola's press conference in which he announced the Police had set up fixed counter telephones in all Police stations throughout Kampala Metropolitan Police Area enable members of the public to have access to police services in case of need and an assurance by his deputy, Muzeyi Sabiiti that they would increase police patrols, the thugs struck again.

There have been reported deaths of four people within the past week and several others injured. In Kween district, unknown panga-wielding men chopped off the head of the Reverend Augustine Neto of Terenboy Church of Uganda in Kwosir sub-county. Neto, who was also a teacher at Kwosir Girls High School, was killed after he rallied members of his community to follow a gang that had on Saturday night raided his kraal and stole all his animals. Unfortunately, they fell into an ambush inside the dense Mt Elgon forest and he was killed.

On Monday morning, a group of panga-wielding thugs raided a steel factory at Kabembe village, in Kyampisi sub-county in Mukono district and hacked four people, including two Indians and security guards. The more than 10 thugs raided Crane Roofing's Limited at around 3:00 am and after hacking their victims, they fled with over sh30m and the guns.

On Tuesday, two herdsmen were hacked to death on their way to separate farms in Kawuulu A cell, Kisoozi parish, Gomba district. The incident happened 10 metres from the Police post. However, it remains unclear why the Police failed to respond in time.

The two have been identified as Steven Kasibante and Boniface Kaliisa. Residents say the two were not known to have money. In Mpigi, about 15 armed robbers attacked a Chinese factory, Sino Plywood, on Friday night, overpowered the two Police officers who were guarding the factory and fled with cash estimated at sh8m and a vehicle.

The factory is located at Jeza zone B, in Muduuma sub-county. According to Katonga region Police publicist, Joseph Musana, the robbery took place at around 2:30 am. The gang, armed with three rifles, attacked the factory, tied up the two police guards at the scene before making their way into the factory. A Toyota Harrier (UAS 584G) belonging to the factory director was taken.

Group becoming bolder

The Panga-wielding gangs gained notoriety in Masaka district in April last year, where they killed several people and also raided homes in what many suspected to be connected to subversive activities and contract killings for revenge. However, within a month, they had extended their operations to parts of Kampala, Wakiso, Mukono, and Mpigi. Their traditional weapons included claw bars, hammers, pangas and pick axes.

Who is behind these acts?

Several people in areas of attacks who spoke to Sunday Vision noted that the groups were becoming bolder. Ntenjeru-Kisoga town council chairperson Kiyaga told Sunday Vision that in some of the attacks, the residents were often times scared to even call the Police. "Some of these are people we know. They are residents who organise themselves and raid us at night," he said.

Kiyaga said he suspects the thugs to be coming from the islands, following operations by the UPDF officers against illegal fishing. A senior security source at the centre of ongoing investigations told Sunday Vision that in some of the cases, especially those targeting rich men and factories, they believed the information about the targets is usually shared by people who know the victims.

Mukono Municipality MP Betty Nambooze attributes the high level of criminality to lack of jobs. "Unless the Government moves in quickly and addresses the question of lack of employment for the youth, insecurity will remain a challenge," she said.

Residents resort to own security

In an interview with Sunday Vision, Sadam Lukwago, who is one of those on the hit list, said this was not the first time his name had appeared on the hit list. Lukwago said the first time, he received the threat via an SMS, which forced him to hire guards.

He, however, says the cost of hiring a guard at sh800,000 a month was too high, so he stopped. Sunday Vision has also learnt that several areas have resorted to hiring vigilantes to secure themselves. Over the years, the leadership of both the lower and upper Canaan Royal Estates in Nakwero, Gayaza have worked closely with Police officers at Kasangati Police Station to combat thuggery in their two villages.

Joseph Oboth, who is a local leader in Canaan Royal Estate, told Sunday Vision that the communities' greater collaboration with the Police has seen drastic reduction in crime. "It was, indeed, this great collaboration which gave birth to the idea of constructing a Police facility within the Estate to allow permanent Police deployment," Oboth says.

He says members of the community contributed to setting up of the post. "Kasangati Police also maintained surprise patrols within the estate and these yielded good results," Oboth said. He said the vigilantes were thoroughly vetted by the estate chairperson, Patrick Muwanguzi and the security committee chief, Dickens Otim. Oboth said the residents in the estate know each other and would respond to emergencies in the area.

The residents also share a WhatsApp group, where incidents are posted for the quick response. One of the Police divisions that have successfully embraced community policing and the mayumba kumi (10 households security model) is the Kira Road division under Michael Kasigire.

In an interview with Sunday Vision, Kasigire said he embraced the concept of community policing and shared it with residents. He says under the community policing and the mayumba kumi arrangement, the residents and the local police work together to prevent crime. Even though they have been unable to entirely wipe out crime, Kasigire says they have achieved a lot.

Kiira Road Police division comprises 332 villages and Kasigire says they have 120 active neighbourhood WhatsApp groups and that some of the groups even combine two or three zones. "At the command level in the division, we are able to get any news about whatever is happening and respond in time," he says. This, Police says, should be done in partnership with the local council system through the secretary for information.

The Police is also encouraging each home to have a telephone number of the nearest Police unit. Sabiiti encouraged residents to adopt the Mayumba kumi system. The Mayumba Kumi, a Swahili concept to mean ten houses, is a system of administration which clusters ten houses to ensure people know who is who in a locality. The system was introduced by President Apollo Milton Obote in the early 80's.

However, Sunday Vision has established that in some areas where it has been applied, there have been a drastic reduction in criminal activities. Sabiiti also urges the public to desist from keeping a lot of money at home or in cars as this will attract thieves.

As published in the Sunday Vision, November 4, 2018


RELATED STORIES