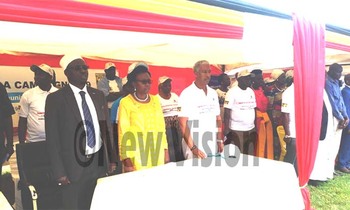 IMMUNISATION VACCINE

MAYUGE - The Minister of Health Dr. Jane Acheng has launched the national measles-Rubella and polio mass vaccination campaign 2019. The event took place at Mayuge district grounds.

The event theme was "Protect your child against measles and rubella - immunize now". The mass vaccination will kick off on October 16 to 20, 2019.

During the launch, nurses carried out the immunisation exercise. Pupils from various primary schools in Mayuge district were vaccinated.
_____________________________
Ministry comes out on 'distorted information' on campaign
The health ministry has issued a statement refuting as "false, unfounded and baseless" allegations that have beeb spread on social media that the Measles Rubella vaccine is hazardous to children's health.
Here is the statement in full:
The Ministry of Health has noted with concern about information circulating on social media platforms by a one Mugisha Elvis Mbonye, alleging that the Measles Rubella (MR) vaccine is dangerous to the health of children.
The Ministry of Health would like to state that these allegations are false, unfounded and baseless, and would like to set the record straight as follows;
For over three decades, immunization has helped reduce infant mortality downwards to 64 percent per 1,000 live births. This has in turn enabled parents to concentrate on developmental issues as opposed to spending most of their time and money treating these known and preventable killer diseases.

Contrary to allegations on social media, the Measles Rubella vaccine does NOT cause autism. Some people have had concerns that Autism Spectrum Disorder (ASD) might be linked to the vaccines children receive, but several studies have shown that there is NO link between receiving vaccines and developing ASD.

One ingredient that has been studied specifically is thimerosal, a mercury-based preservative used to prevent contamination of multidose vials of vaccines. Research shows that thimerosal does not cause ASD.

In light of the global burden of Measles and Rubella, World Health Organisation (WHO) recommends that countries take the opportunity offered by accelerated measles control and elimination activities to introduce Rubella Containing vaccines (RCVs).

This combined vaccine delivery strategies provide an opportunity for synergy and a platform for advancing rubella and Congenital Rubella Syndrome (CRS) elimination.

The primary goal of Measles Rubella vaccination is to prevent Measles and congenital rubella infection, including Congenital Rubella Syndrome (CRS).

In the recent past, Uganda has experienced Measles and Rubella outbreaks in over 60 districts.

It is therefore against this background that the Ministry of Health with support from partners will conduct a mass Measles and Rubella immunization campaign.

The campaign will take place from Wednesday October 16 to Sunday October 20 in schools for the first three days and in the communities for the last two days targeting all chidren under 15 years of age, whether previously immunized or not.