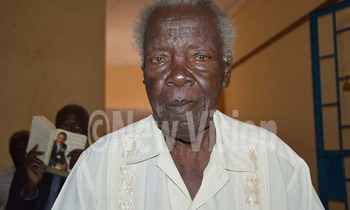 EULOGISING DEATH
SOROTI - Teso is mourning the death of cultural minister Mackay Elesu, who has been in charge of languages.

He died Tuesday morning at Soroti Regional Hospital. He was 90.

The Paramount Chief of Iteso, Emorimor Papa Augustine Lemukol Osuban, eulogized his minister as courageous, brilliant and committed man who had Teso at heart.

"He loved culture and he has written a number of Ateso books that people read today to enrich our tribes values. His death is like a library that has caught fire," he said, calling on the family to remain united and carry the legacy of their father to greater heights.

Elesu was a retired educationist who served in both President Milton Obote and Idi Amin governments.

His son, Joseph Elesu, said his father had multiple age-related illnesses.

"The genesis of his illness is when he fell off a motorcycle and cracked his hip some years ago living him to walk on crutches. Later on he became weak and he was always in and out of the hospital," Elesu junior told New Vision.

He described his father as staunch Anglican, loving man who recently celebrated 60 years of holy matrimony.

"Three days ago, when I spoke to him, he said that whenever he looks at me he sees himself in me. He was a man of humor and people loved being in his presence," Elesu Junior recounted.

Jonathan Maraka the cultural deputy minister for information and documentation described the deceased as a man of high integrity, approachable who treasured his tribe.

"I feel grieved for the death of the guardian of the Ateso language. He has written a lot of literature in Ateso. May his soul rest in eternal peace," Richard Adongu a culture enthusiast posted on his social media.

Mzee Mackay Elesu is a born of Omodoi village in Asuret sub- county in Soroti district. He has been married to Lucy Elesu now a widow for 60 years. His burial is slated for Saturday according to his son.