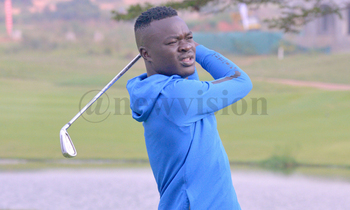 Uganda team captain Joseph Cwinya-ai produced the best score for Uganda as the All Africa Team Golf Championship ended, at the Mont Choisy Le Golf course in Port Louis, Mauritius on Saturday.
Cwinya-ai carded 297 gross over 72 holes to finish tenth overall out of 56 golfers from the 14 countries that took part and also helped Uganda finish fourth overall.
Cwinya-ai was among the 14 golfers who managed to play under par in at least one of the rounds, having played two-under-70 in the third.
Godfrey Nsubuga playing for the senior side only in his third outing was the second-best Ugandan finishing 11th in the individual scores, while Rodell Gaita, Uganda's other scorer in the biennial championship finished 25th. Dennis Asaba returned a non-scoring 316 gross to finish 32nd.
Uganda started well behind eventual winners South Africa, in the opening round, two strokes off but slipped to fourth in the subsequent rounds as the playing conditions got tougher for them. The Ugandans found the windy conditions tough to deal with but their fourth-place finish was a position better than the last time out in Kenya in 2017.
National team player Godfrey Nsubuga at Kitante. PHOTO: Michael Nsubuga
"I drove the ball very well but my putting was bad. But the biggest challenge was wind, It was too windy because, in a distance of 130 yards, I was using an eight-iron. The windy could even move the ball from the mark on the green," Cwinyaai said.
"It's a much more fair position but we are a little bit disappointed with our finish. We should have finished in the top three because this year we had achieved a lot as Team-Uganda," Cwinya-ai reasoned
Nsubuga is hoping to getter better after the exposure while Asaba believes the team would have done better with more preparations.
"We didn't have enough time for practice and we only camped for a week so there was little motivation," Asaba noted.
South Africa once again proved their supremacy on the continent after clinching the Championship for the tenth time in a row.
Jayden Schaper led the champions with a 13-under 275to claim the individual trophy as well; as Kyle De Beer and Martin Vorster weighed in with six-under-285 each, for South Africa to win by 46 strokes.
The best three gross scores from the four players from each country count in every round, with the lowest aggregate gross score for the team over the four rounds winning the championship.
Final leaderboard
South Africa 221+206+205+205 837
Mauritius 236+213+220+214 883
Morocco 226+216+219+230 891
Uganda 223+228+219+227 897
Reunion 232+228+219+233 912
Eswatini 229+222+224+237 912
Kenya 230+229+229+228 916
Zambia 231+227+232+229 919
Zimbabwe 242+226+230+225 923
Tunisia 230+225+232+239 926
Namibia 242+245+228+221 936
Ghana 255+243+231+244 973
Malawi 253+250+243+235 981
Seychelles 257+253+255+257 1022
Uganda's individual performance
Joseph Cwinya-ai 75 76 70 76 297
Godfrey Nsubuga 73 74 74 79 300
Rodell Gaita 84 78 75 74 311
Dennis Asaba 75 85 79 77 316