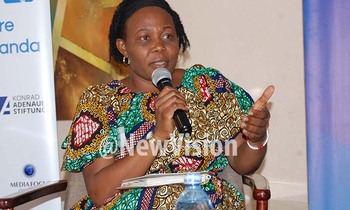 (L-R) Barbara Among, Carol Kasujja Newvision, and Benon Oluka Africa Editor, GIJN- Global Investigative Journalism Network look on, during the panel discussion Media workshop at Golden Tulip hotel in Kampala on 10th, Oct, 2019 .Photo by Sylvia Katushabe

"Build a network of people in the newsroom you trust who know where you are going. Safety starts with you. Have a social network outside the newsroom within and outside your profession," explained Among.

Franklin Draku implored journalists to stop lamenting and learn to use there own resources in executing some of these stories and only ask for help when they cannot provide for themselves.

The journalists also highlighted the need to be more cautious in double-checking facts while writing a story to reduce the problem of fake news.

"Question where the information is coming from. Ask yourself what is in it for the person who shared the information because sometimes the person has an interest in the story," Carol Beyanga, a journalist stated.

Beyanga further explained the importance of verification of the source of the tip. She stated that one needs to question where the information is coming from and before publishing the story, determine the missing links which could make the story not to be run.

Jan Ajwang of Media Focus on Africa emphasized the need to locally process the issues pertaining to journalism and locally finding solutions to them.
He argued what worked for one country may not apply to Uganda and, the failure to contextualize these challenges leaves the profession to chance.