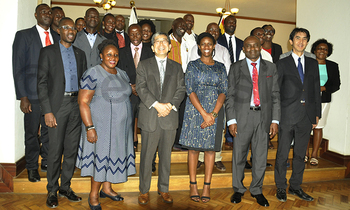 It was all happiness as Kazuaki Kameda, the ambassador of Japan to Uganda was welcoming students who were returning from Japan after completing their Master's Degree and Internship Program under the African Business Education Initiative for Youth (ABE Initiative) and also sending new students for the program.
The students were also hosted at the ambassador's residence in Nakasero on Friday.
ABE Initiative is a government of Japan program aimed at supporting young personnel who have the potential to contribute to the development of industries in Africa.
The participants are supposed to have strong motivation to strengthen economic ties between Japan and Uganda.
In his speech, the ambassador congratulated all the returnees for having successfully completed their programs despite the various challenges that could have come their way during their stay in Japan.
He revealed that at the 5th Tokyo International Conference on African Development (TICAD V) held in 2013, the Japanese government started its policy of promoting support for the opening dynamic growth of Africa with stronger public-private partnerships.
"At the same even, the prime minister Shinzo Abe announced the ABE initiative, which carries his own name and is a strategic five-year plan providing 1, 000 youths in Africa with opportunities to obtain Master's degrees at Japanese graduate schools and to do internship at Japanese companies," he said.
Kameda explained that also at TICAD 7 held this year, Abe also presented ABE initiative 3.0, which is a scaled-up version of the current initiative and aims at developing 3000 industrial human resources in six years in entire Africa. "I expect more Ugandan people to benefit from ABE 3.0," he stated.
In his speech read by Raymond Agaba, acting permanent secretary Ministry of trade, Industry and comparative, state minister for Trade Micheal Werikhe, said Uganda has shared a long bilateral relationship with Japan especially in the field of health, infrastructure, agriculture, and education.
According to Werikhe, Japan has assisted Uganda in human resource development for a long time through JICA which means Japan has supported business, technical and vocational education and training sub-sector.
"Since 2015, Japan through ABE initiative has offered education at Master's degree level in different fields which also shows how strong the relationship between the two countries," he said.
Mercy Mugoowa, from the ministry of education, said, JICA has been providing support to the education sector for many years. Hence thanking the government of Japan for sacrificing everything at the disposal to invest in the education of the children.
"These lucky students have a noble duty to work hard and bear fruits. Only and only then shall the nation be transformed for the better," said Mugoowa.
Yutaka Fukase, chief representative JICA explained that the ABE initiative was launched based on the significance of the increasing number of Africans visiting Japan, as well as increasing awareness among Africans regarding the efficiency of Japanese technologies and systems of enterprises.
He revealed that the students engage in master's degree courses in Japanese universities for about two years and thereafter, experience internships at Japanese enterprises for two weeks to six months.
"Through the internship program, ABE students can develop effective skills and knowledge to contribute to the industrial development of Uganda and the wider African region," Fukase said.
He noted that over 26 Ugandans have participated under the Abe program in the past four years in the areas of agriculture, public health, electrical and mechanical engineering, business administration, international development among others and more are expected to take part.