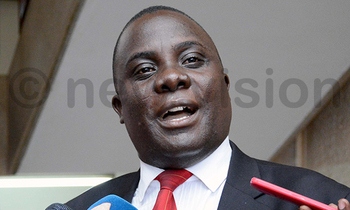 The Environment Police Protection Unit (EPPU) on Thursday arrested Butambala County Member of Parliament Muhammad Muwanga Kivumbi over the Wetland degradation.
Kivumbi who is the Shadow Minister of Internal Affairs and one of those vocal in attacking Government was briefly detained at Jinja Road Police Station and later released on police bond.

The MP was arrested at his site in Seeta Village, Wampeewo Parish, Nangabo Subcounty in Wakiso District while supervising the degradation of the wetland.

The four (4) acres land which NEMA says contains 90% wetland 10% dry land was being degraded into a recreational center while part of it had two apartment blocks under construction.
Speaking to Sunday Vision Emmanuel Esabu the Operation officer Environment protection police Unit said they arrested Kivumbi after checking on wetland maps and the GPS coordinates identified the site as a wetland area.


Muwanga was only saved from spending night after he called the Inspector General of Police Okoth Ochola who requested the police to grant him a bond.


Muwanga on Saturday denied claims that he had encroached on the wetland and noted that this was purely witch-hunt. He noted that his title was freehold and that he had been using the same land for commercial purposes and banana plantation.
He noted that when the EPPU police visited him, they asked him to apply for a permit to use and he rejected.

Details in Sunday Vision