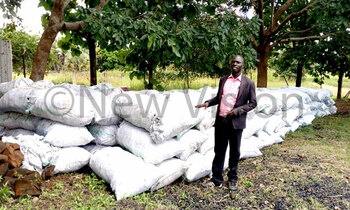 Officials working in the forest and environment department in Yumbe district have intensified operations on illegal charcoal dealers in the area.
The leaders in a joint venture impounded 640 bags of charcoal from the sub counties of Kochi, Keyi, Romogi, Kerwa and Ariwa in a bid to reduce on rampant and illegal charcoal burning and selling in the district.

Swaib Solo Andama, the district environment officer who doubles as the acting forest officer said cutting of natural tree spices for charcoal and illegal logging is rampant in the district a reason they swung into action to curb the culprits.

Andama explained that the operation was launched two months ago purposely to arrest illegal charcoal dealers and impound the charcoal.

In October, the officials impounded 215, 50 and 375 bags from Goboro parish in Kochi parish, Kerwa and Keyi Sub County respectively.


Andama said the business is illegal because the dealers are not licensed to cut trees, burn and sale charcoal.

"Impounded charcoal is sold to the locals after securing court order. Individuals coming to buy have to only purchase one bag to deter promoting the dealers from buying in bulk for sale," he stated.

He added that each truck impounded with charcoal, the owners pay Sh1m as fine and the charcoal is offloaded at the district yards as source of local revenue.

The district also embarked on tree planting to replace those destroyed by the illegal loggers and charcoal dealers.


Andama said, every year Yumbe district raises 50,000 seedlings of different tree spices and distributes to the locals to plant. Among them is Afzelia African, Teak, Eucalyptus and other spices.

Taban Yasin, the LC5 chairman Yumbe district said, in 2006, council passed a resolution stopping charcoal burning and selling as a business but only allowed for home use on small scale.

He said, the local communities seem not to appreciate environment and continue cutting trees even when the resolution is still standing. "If you clear environment without Environmental Impact Assessment EIA, it is dangerous" Yasin said.

He advised the locals to plant more trees and ensures trees planted are able to grow to protect the environment.

Yasin implores the communities to equally protect trees seedlings that germinate and grow naturally to supplement on those planted.