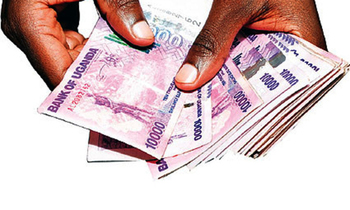 FOREX RATES FINANCE
KAMPALA - The Uganda shilling held its ground against the dollar, trading slightly stronger during the week that ended on October 4, 2019.

It was supported mainly by commodity in flows amid sagging demand from the major market players, a report by Alpha Capital Markets indicated.

Last week, trading was in the range of 3675/3685.

In the money market liquidity was tight; this prompted the Central Bank to inject liquidity via a reverse repo.

However, at 14GMT, Bank of Uganda (BOU) data quoted the shilling trading at 3,689/3,699 on Thursday afternoon down from 3,685/3,695 that was recorded on Wednesday.

"Outlook for the Uganda shilling indicates range bound trading with no significant movements expected in a fairly square market," Stephen Kaboyo a financial analyst said.

In fixed income market, BOU reopened a 3 year and 15 year bonds with a total of 270 billion on offer. The Yield came out at 14.750% and 15.550% with coupons for preset at 11% and 14.250%. Both tenors were undersubscribed with bid to cover ratios of 0.903 and 0.802% respectively.

The regional currency markets indicate that the Kenya shilling traded stable and was expected to hold at the current levels supported by inflows from diaspora remittances that evened out demand from the energy sector. Trading was in the range of 103.80/104.

In the global markets, the US dollar fell to a two week low against the majors as investors fretted that weakened in both US manufacturing and services sector could lead to a slowdown in the world's largest economy.

Kaboyo added that expectations that the US economy would continue to outperform other major economies and put pressure on the Federal Reserve to slow its interest cutting cycle were dampened following the real ease of the week data.

During the release of the Monetary Policy statement for October 2019 at BOU head offices in Kampala on Monday; it was revealed that the central bank rate (CBR) was reduced by 1% from 10% in August 2019 to 9% in October 2019.

According to Dr. Adam Mugume, Director Research BoU, the decline said was partly driven by a relatively stronger shilling, moderation of smaller domestic demand and lower food prices.