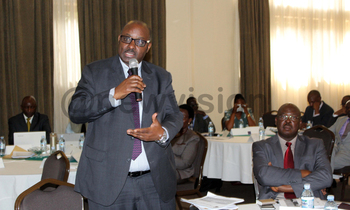 LOCAL GOVERNMENTS

KAMPALA - The push by government departments to recentralize recruitment of government workers will create more problems than solutions, the local government ministry has warned.

The development comes after reports that the health ministry was pushing to recentralize recruitment of District Health Officers (DHOs) following an outcry of declining service delivery in the country.

The health ministry says they are having many challenges working with local governments, especially in regard to the supervision of health officers.

But reacting to the development, Benjamin Kumumanya, local government permanent secretary, said that the move is illegal and that they would resist it in Cabinet.

"The constitution is clear. It says appropriate measures shall be taken to enable local government units to plan, initiate and execute policies in respect of all matters affecting the people within their jurisdictions," Kumumanya said.

"What we need is a contribution to build on what we already have. I don't see how taking over recruitment of staff is an appropriate measure."

Kumumanya acknowledged there were some challenges but said those problems would be better solved through a mult-sectoral intervention, and not dismantling the decentralization system in the 'way some departments of government were pushing'.

"If a patient is suffering from ulcers, you don't prescribe chloroquine. What they should do is strengthen those local government offices. As line ministries, their mandate is monitoring, coordinating government initiatives and policies as they apply to local government," he said.

Yusuf Mayanja the vice chairman for Kalungu district said they would resist any tampering with the decentralization system as it would be a step backwards.

"Last year, the health ministry fought to have procurement done at the centre. However, few months down the road, some districts did not have the necessary health supplies to function and people are crying to us," he said.

According to Mayanja the solution lies in the hands of all stakeholders working together with local leaders because they know the needs of the people and can be relied upon for solutions to problems bedeviling the decentralization system.

Kumumanya said despite the challenges the decentralization system is facing, they are doing everything in their means to correct the system, especially in regard to plugging the staffing gap in the 134 districts of the country.

However, he revealed that this has been affected by continuous reluctance by many qualified Ugandans to go and work upcountry.

He also claims there have been cases where appointments of newly recruited workers have been challenged before the Inspector General of Government (IGG), which has delayed filling vacant positions in local governments.

About decentralization

The decentralization policy was introduced in Uganda in 1997 under the Local Government Act of 1997.

Critics, however, say while it has resulted in greater participation and control over service delivery and governance by local communities, the policy is still grappling with a range of challenges, including inadequate local financial resources, over-reliance on conditional central government grants; inability to attract and retain sufficient trained and experienced staff; corruption and nepotism.