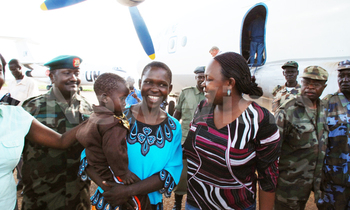 ABOKE CAPTIVITY KONY REBELS
On October 9, 1996, a total of 139 girls, most of them in senior one and two of St. Mary's College Aboke, in Aboke town, were kidnapped by the Lord's Resistance Army rebels.
They stormed the school, broke into the dormitories and bound the girls with ropes and herded away into the bush; as the girls wailed in pain and fear.
Tamale Kilega
The deputy headmistress, Sister Rachele Frassera, an Italian nun, followed the rebels and after an appeal, they released 109 girls, clinging onto 30. The 30 were further divided into groups, to keep them disunited.
One of the rescued girls, Louiza Namehele
They were forcefully married to rebel commanders. When Sr. Rachele insisted on having all girls returned to her, rebels threatened to take away even those they had released.
Former Abductees
The 30 students were than delivered to Kony, who placed a close ring around them and turned most of them into his wives. Out of the 30, four died in captivity. The rest returned home, many with children.
Fassera Rachelle
The girls who were abducted, say they were driven into the jungles where some stayed for years.
October 2004, 20 schoolgirls returned home after eight years in captivity in Sudan.
December 14, 2008, the last returnee, Catherine Ajok escaped from the LRA when the UPDF bombed the LRA base in Garamba, DR Congo. She arrived at a UPDF base in Dungu in March 2009.
Catherine Ajok with her baby fathered by one of the rebels
Ajok returned with her one-year-old child, Happy Odonga, who was fathered by Kony. She was reunited with her parents, Dr. Alfred Alyai and Licer Namataka at a ceremony that was attended by President Yoweri Museveni.
Catherine Ajok after being rescued from the rebels in March 2009
In 2012, Angela Atim Lakor, one of the 30 girls selected and retained by LRA rebels escaped from LRA captivity.
The school administration and the parents mounted a campaign for the release of all abducted children in northern Uganda.
Aboke girls, a monument constructed in memory of the abductees
They went as far as the UN, the Vatican and on several occasions met Sudan's President Omar el Bashir. At the time, Sudan was supporting the rebel movement.
Sister Rachele Fassera of Aboke Girls' School greeting president Museveni at the President's residence in Pretoria after the Summit which discussed relations between Uganda and Sudan on August 31, 2009. File photo
The pressure brought global attention to the two-decade war in northern Uganda.