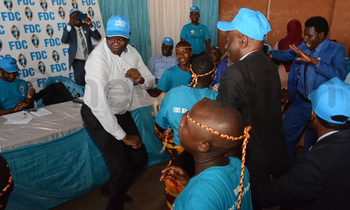 Forum for Democratic Change (FDC) has launched a campaign intended to keep President Yoweri Museveni off the ballot for the 2021 presidential elections.
The party president Patrick Oboi Amuriat on Wednesday announced the move to FDC members as they commemorated Uganda's 57th Independence Day, at the party's headquarters in Najjanankumbi, Kampala.
"We have declared action in 2019 against Museveni. He should know that it is absolutely risky to cheat FDC," Amuriat said.
"We have the responsibility to return power to the people of Uganda," he said while calling on people to unite in the campaign.
"Now is not the time to tell who will lead us after we have liberated the country," he said.
Amuriat said that of the 57 years of Uganda's independence, 34 have been taken by the National Resistance Movement (NRM).
Traditional dancers were on hand to anchor celebrations and their performances got many of the party members excited to which they got on their feet and joined the dance.
This year's main independence celebrations were held in Sironko district under the theme Consolidation of National Unity, Security, Freedom and Prosperity.
On Monday, the party announced that former party president, Dr Kiiza Besigye would give a lecture during the celebrations but he was absent.
Amuriat apologised for Besigye's absence, saying he did not attend for reasons Amuria declined to reveal. Also absent was former the party's secretary-general Nandala Mafabi.