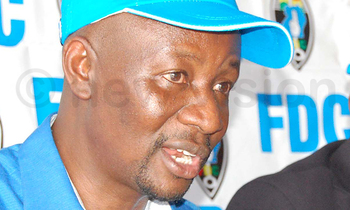 The Forum for Democratic Change (FDC) party has kicked off a mobilisation exercise in the central region.
The party's spokesperson, Ibrahim Ssemujju Nganda, said they have started with Kampala and Wakiso before rolling out to other districts.
"We are first meeting our leaders from the various districts to educate them on their individual responsibilities ahead of the 2021 general elections," he said.
He stressed that leaders need to emphasise civic education among supporters and other Ugandans to understand why they have to vote.
Addressing journalists at the party's weekly press briefing at the party head officers in Najjanankumbi, Kampala on Monday, Ssemujju said they want to use the strategy to defeat President Yoweri Museveni and the National Resistance Movement (NRM) in the coming election.
He said the exercise will also be used to recruit new members into the party.
"If all Ugandans know their individual responsibility, it will be easy to achieve our goal and rescue our country," he explained. Similar exercises have already been held in northern and eastern Uganda.
Ssemujju said the mobilisation programs will be spearheaded by Col Dr Kiiza Besigye (former FDC leader), Patrick Amuriat Oboi (party president) and other senior leaders who will be moving to different districts to engage with leaders and party supporters.
He said they will continue pursuing unity with all other political forces.
At the same briefing, Ssemujju said FDC has organised a public lecture on Wednesday to celebrate Uganda's 57th Independence anniversary.
He said the lecture will focus on Uganda's Independence since 1962, achievements and what needs to be done to protect other remaining resources.
The event is to take place at the party headquarters in Najjanankumbi with Besigye as the main speaker.
Ssemujju explained that the government should always use Independence Day to reflect on the achievements.
"Independence is not just a passage of time. It is about what we have collectively achieved as a people," he added.
"Our grandparents who resisted colonialism, fought for economic emancipation and self-rule. They wanted to be free. But we still need permits to hold rallies while many Ugandans are still in abject poverty," he said.