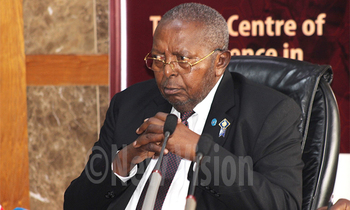 INFLATION BANK RATES

KAMPALA - Bank of Uganda (BoU) has reduced the central bank rates by 1% from 10% in August 2019 to 9% in October 2019. This was done in response to the expected path of macroeconomic indicators and the international economic environment.

The revelation was done during a Monetary Policy Committee (MPC) Press Conference at the BoU head offices in Kampala.

According to BoU, the economy continues to grow although at a slowing rate. While reading the Monetary Policy Statement at the meeting, Governor Emmanuel Tumusiime-Mutebile said economic activity has slackened in the first half of 2019 compared to the second half of 2018.

Indeed, "the recently released quarterly7 GDP estimates by the Uganda Bureau of Statistics (UBOS) indicate that GDP growth slowed in the second half of financial year 2018/2019," Mutebile said.

In addition, the Governor stated that BoU's high frequency indicator of economic activity, the composite Index of Economic Activity (CIEA), points to a moderation of economic activity in the first quarter of FY 2019/20.

He added that the outlook is uncertain, particularly due to the unfavorable global economy with a combination of widening fiscal and current accounts deficit coupled with public sector domestic financing needs which could exert pressure on the lending interest rates further leading to moderation of economic growth.

According to the Monetary Policy Statement, Annual headline and core inflation declined to 1.9% and 2% respectively from 2.1% and 2.7% in August 2019.

The decline Dr. Adam Mugume, Director Research BoU said was partly driven by a relatively stronger shilling, moderation of smaller domestic demand and lower food prices.

Food crops inflation declined from minus 1.4% in August 2019 to 3.0% in September 2019. However, Dr. Mugume said Energy Fuel and Utilities (EFU) inflation rose to 2.5 percent in September 2019 from 1.0% percent in August 2019.

He added that inflation outlook has been revised downwards compared to the August 2019 round of forecast.