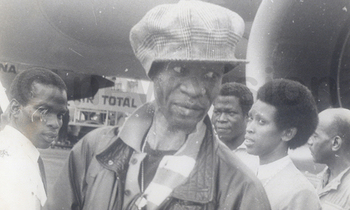 Thirty years ago in October, Ugandans rushed to get their hands on a mysterious miracle cure, a story that dominated the news cycle for much of the month.
Take a look at that and other big stories from that month.
October 02 - John Ssebaana Kizito, the minister of housing and urban development, launched a housing project. The National Housing and Construction Company embarked on the construction of the third phase of the Bukoto housing estate. About 250 housing units were to be constructed for sale to the public.
October 09 - Nine people were killed and an NRA soldier was also injured in an attack by Rwenzururu rebels on Independence Day, in the border sub-county of Kitolu in Kasese district. Kitolu sub-county is about 70 km from Kasese town. It was reported that the rebels took along with them four guns which they removed from LDF and big loot from Kitoma trading centre.
October 10 - NRC gives NRM five more years: A bill seeking a five-year extension of the National Resistance Movement (NRM) government's term of office from January 1990 was passed by the National Resistance Council. The legal notice No.1 of 1986 (Amendment No 2) Bill, 1989 was passed after an intensive four-day debate by the Council.
October 17 - Police nets 400 drivers: About 400 drivers were netted in Kampala in an operation mounted by traffic police to clampdown on drivers without permits. Police blocked major routes to the city. Cadet Assistant Superintendent in charge of traffic at Kampala Central Police Station, Fred Yiga, said some people who were licenced to drive heavy commercial vehicles were driving small cars when it was not indicated in their driving permits. The operation was in a bid to reduce poor driving which leads to numerous accidents.
October 18 - Thousands rush for miracle cure: Thousands of people from all walks of life, converged at a small hill, near Ntuku trading centre, 20 km from Ssembabule, Mawogola County in Masaka district.The attraction was soil that was claimed to have curative powers for all illnesses.
According to sources, an elderly woman named Yowanina Nanyonga experienced a 'heavenly vision'. It was claimed by the same sources that she was directed to help cure people, by giving them a "special soil".
October 20 - Car robberies hit Kampala: A renewed wave car robberies rocked Kampala and its suburbs causing fear and alarm among motorists. For the previous three months alone, a total of 67 vehicles were robbed at gunpoint in and around the city. The most sought after were the Toyota Corollas, Datsun Sunnys and Nissan Violets, according to Police records. The robberies were carried out both in broad daylight and at night.
October 29 - Philly Lutaaya goes back to Stockholm: Renowned Ugandan singer Philly Bongoley Lutaaya who had been home for four weeks left for Stockholm, Sweden where he was based. Lutaaya left aboard a Sabena Airlines flight SN 498 to Brussels.
His colleague Alex Mukulu, director of the documentary production entitled, The Life and Times of Philly Bongoley Lutaaya, accompanied him. Over 100 people who included the Minister of State for Health, Dr Ronald Bata, saw them off at Entebbe. Lutaaya had proclaimed to the world that he was an HIV/AIDS victim and was in Kampala to launch his album 'Alone'.
October 30 - Sembabule miracle is false - Kaheru: Government warned Yowanina Nanyonga, the Sembabule "miracle cure" woman to stop her practice immediately. A medical team's findings revealed that her soil could neither cure nor immunise against any disease.
The medical team said patients previously claiming to have been cured, were found to still have the same symptoms of the disease they had. While addressing a press conference, the Minister of Health, Zak Kaheru, said that people were estimated to have consumed three tippers full of soil.