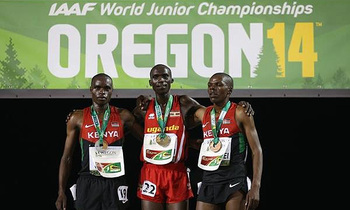 JOSHUA CHEPTEGEI AT A GLANCE


By Joseph Kizza
@joekizza

_____________________________


In a space of only five years, Ugandan long-distance runner Joshua Kiprui Cheptegei has achieved what many professional athletes will never accomplish in their entire careers. And the 23-year-old has many more years ahead of him to underline his dominance in the craft. Following his latest triumph in Doha, let's take a look at his glowing career thus far.


_____________________________


THE BREAKTHROUGH - EUGENE, 2014

Cheptegei burst onto the international scene five years ago with victory in the men's 10,000m final at the IAAF World Junior Championships in Eugene, Oregon in USA.




The 17-year-old Ugandan wore bib number 1492 and competed alongside compatriot Abdallah Mande (1494). Need I remind you that the two Ugandans were Uganda's only representatives in Sunday's men's 10,000m final in Doha, Qatar?




Anyway, back in Eugene, Cheptegei was at first among the chasers but he went on to run past early leaders Japan duo Keisuke Nakatani and Hazuma Hattori, and then remained firm in the face of a surge by Kenya's Elvis Cheboi and Nicholas Kosimbei to claim victory.




Cheptegei was sandwiched by Cheboi and Kosimbei on the podium to announce his name to the world.

_____________________________


DOUBLE GOLD - GOLD COAST, 2018

At the Commonwealth Games in Australia, Cheptegei came into the men's 5,000m final as the pre-race favourite.




Running alongside fellow countrymen Thomas Ayeko and Phillip Kipyeko, Cheptegei only started to build momentum with about four of the 12-and-a-half laps to go.




Eventually, he beat Canadian Mohammed Ahmed and Kenya's Edward Pingua Zakayo, who settled for silver and bronze, respectively.




Cheptegei did a time of 13:50.83, Ahmed came through in 13:52.78 while Zakayo crossed the line in 13:54.06.




At the same competition, Cheptegei would go on to compete in the men's 10,000m final.




Again, he had Ahmed for a close challenger, but the Ugandan once again proved that he was the man on top by sealing a double Commonwealth gold.

Here, Cheptegei powered through in 27:19.62, Ahmed in 27:20.56 and Kenyan Rodgers Kwemoi in 27:28.66.




_____________________________


BREAKING BARRIERS - NIJMEGEN, 2018

In November last year, Cheptegei won the NN ZevenHeuvenloop (Seven Hills Run) in 41:05 to chip as many as eight seconds off the world best. This was in the Dutch city of Nijmegen and it was the Ugandan's fourth time to win the race.




_____________________________


REDEMPTION - AARHUS, 2019

It will be very hard to forget that day Cheptegei's wheels flew off during the IAAF World Cross Country Championships at home in Kampala. The year was 2017.

But having faced the unforgiving critical world, Cheptegei knew something about redemption. He patiently waited for the next edition in Aarhus, Denmark.




It was both history and his story in one as Cheptegei became the first Ugandan to win the Senior Men's title at the World Cross Country Championships.




It was the perfect answer to all those that had made a laughing stock out of him for his previous performance in Kampala. His redemption was sweet - and how timely it was!



Cheptegei relished every bit of his triumph in Aarhus.

He raced to gold on the tough course, beating compatriot Jacob Kiplimo, who finished second, and defending champion Geoffrey Kipsang Kamworor of Kenya.




_____________________________


A UGANDAN GEM - ZURICH, 2019

On the penultimate day of this year's month of August, many tried but all failed to stop Cheptegei in his tracks as the then-22-year-old raced to a historic IAAF Diamond League 5000m triumph in the Swiss city of Zurich.

The Ugandan achieved a personal best time of 12:57.41 for his and Uganda's first Diamond Trophy.

2016 champion Hagos Gebrhiwet Berhe of Ethiopia came in second with a time of 12:58.15 while Kenyan Nicholas Kimeli Kipkorir was third with 12:59.05.


_____________________________


GOLDEN CONCLUSION - DOHA, 2019

Cheptegei's latest victory arrived on Sunday, packaged in a 25-lap gift box in front of an effervescent crowd inside the grandiose Khalifa International Stadium in Doha.




This was on the last of ten days of IAAF World Athletics Championships action, and the men's 10,000m final had been awaited in earnest.




Cheptegei ran a tactical race that saw the East Africans dominate the contest.




In the end, there had to be one 10,000m champion.

And after perusing this article from the very beginning, that champion requires no further mention.