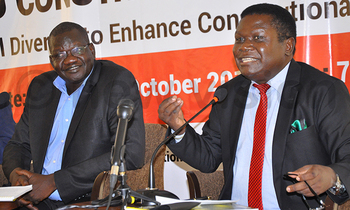 Democratic Party (DP) president Norbert Mao and his Forum for Democratic Change (FDC) counterpart Eng. Patrick Amuriat, have cautioned Ugandans to be wary of radical individualism and populist politicians.
They say the hardline stance of such figures, whose rise from outside the strict political parties' conveyor belt and confines, could trigger a modern-day Adolf Hitler.
The duo made the remarks on Friday at Sheraton Kampala Hotel during a national dialogue on Political Parties and Constitutionalism.
They observed that political parties offer a platform for training leaders, who are shaped, molded and rid of radical tendencies.
The duo did not mention the political figures that aptly fit the description of radical individualism and populism.
The event was organised by Uganda Human Rights Commission (UHRC), to mark Constitution day.
Mao cautioned Ugandans to be steadfast and not be swayed by the re-emerging trend of radical individualism, of which Germany's Hitler was a poster child.
"Adolf Hitler arose because Germans were tired of the political establishment after humiliation in World War One. You know what happened(holocaust).In France, Emmanuel Macron rose with his En Marche but his own supporters have now turned against him!," said Mao.
The discussion was held under the theme 'Harnessing political diversity to enhance constitutionalism'.
Amuriat said, "In the global trends, populism is taking centre stage. Mao's message on Hitler should be heeded."
Hitler fact file
Hitler's predatory political instincts catapulted him into leadership of the Nazi Party. Economic hardship, popular discontent and infighting, paved his ascendance to power in early 1933.
Germany's invasion of Poland in 1939 ignited World War II. Subsequently by 1941, Hitler's army was in total control of a big chunk of Europe.
He is a loathed figure today after for the anti-Semitism that resulted in the massacre of six million Jews.
Hitler is believed to have committed suicide on April 1945 in the city of Berlin, after the allied forces outsmarted him.