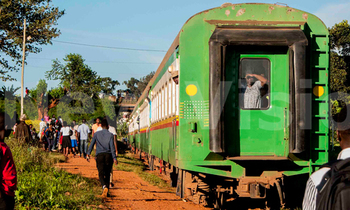 The Uganda Railway, also known as the Lunatic Express, was built by the British colonialists under the foreign office. Over years, it was run down. Much as there is limited movement of wagons

Works on the line started at Mombasa port in the Kenya colony in 1896 and reached Kisumu, on the eastern shores of Lake Victoria, in 1901.

In 1931, the line reached Kampala. Although most of the line was in present day Kenya, the original purpose of the project was to provide a modern link to transport raw materials out of, and manufactured British goods into, the Uganda Protectorate.

The project cost was estimated at $793m in 1902. Its first services started in 1903.


On the Uganda side, the railway line covers 190km, from Kampala to the Kenyan border, and 8km between Kampala and Port Bell. From Kampala, it continues to Kasese in western Uganda, making it approximately 1,600 kilometres from Mombasa in Kenya.

At Tororo, the northern leg of the railway system branches north-westwards, through Mbale, Soroti and Lira to end in Gulu town. From Gulu, the line continues west to Pakwach, about 1,500 kilometres northwest of Mombasa.