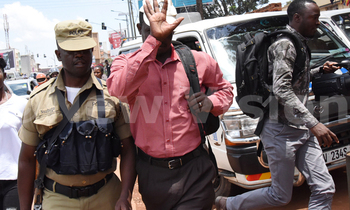 DRUGS HEALTH DOCTOR
A senior medical officer at Sironko district local government was on Thursday arraigned at the Anti-Corruption Court in Kampala and charged for stealing drugs worth over sh5m.

Dr. Benjamin Chebet appeared before the Grade One Magistrate Moses Nabende for the plea. He denied the charges.
Chebet at court on Thursday. Photos by Mpalanyi Ssentongo

He was charged with one count of embezzlement contrary to section 19 (a) (III) of the Anti-Corruption Act 2009.

On conviction, Chebet will be liable to an imprisonment term not exceeding fourteen years or a fine not exceeding three hundred and thirty-six currency points or both.

Prosecution led by Nicholas Kawooya told the court that inquiries in the matter were still ongoing prompting the trial magistrate to adjourn the case to October 17, 2019.

Prior to the adjournment, the accused through his barrister, Richard Rwabogo, applied for bail on grounds that he was a law-abiding citizen, a family man of two children and there only breadwinner.

"Your worship, I pray that this honorable court is pleased to grant bail to the accused for he has substantial sureties and the offence in question is bailable," Rwabogo said.

Chekwutwo Steven, 80, his maternal uncle and John Sawani, 40, his elder brother and a clinical officer at Kaptoyow Hospital stood as sureties to the accused.

The state prosecutor objected to the first surety due to his advanced age, but this did not halt the trial magistrate from bonding the accused an sh800,000 cash bail after finding his sureties substantial.

"I find the two sureties substantial and the offence is bailable, hence granting the accused an sh800, 000 cash bail and his sureties are bonded sh3m each, non-cash," Nabende ruled as he adjourned the case.
Prosecution alleges that the accused on May 31, 2018, at Budadiri Health Centre IV in Sironko district, while employed by the district local government as a medical officer, stole 1485 blisters of lumefantrine (antimalarial) drugs worth over sh5m, the property of Sironko district to which he had access by virtue of his office.

Health Monitoring Unit (HMU) speaks
Prior to the charges, Dr. Jackson Ojera, the director HMU cautioned all errant health workers whom he termed had lost professionalism and passion for saving the sick but instead stole that is prepared to cure the sick.
"I entreat the public to report any health facility or doctor found selling government drugs that are meant to be free by calling 0800200447 which is a toll-free line," Ojera said.

"The government loses sh100b annually on the theft of drugs and health equipment, so there is a need to curb the vice by charging the culprits," he added.