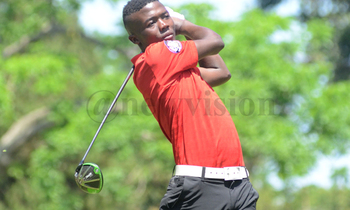 Herman 'Deco' Mutebi shot an opening-round five-under-par 67 to take an early lead as the 22nd edition of the JBG Golf Open teed off at Entebbe Club on Wednesday.
Mutebi is two strokes ahead of Silver Opio who carded 69 (two under) going into the second round of the 54-hole, sh20m competition.
The tournament offers professional golfers a chance to recover from their Uganda Open blues where many failed to make the cut, with only Philip Kasozi, Abraham Ainamani, and Opio Onito cashing in at the Lake Victoria Serena Golf Resort last month.
After the first round, Ainamani is the third place, three strokes away while Saidi Mawa and Ronald Rugumayo are tied fourth place after returning 71 gross each.
Over 230 golfers including the professionals are in action over the next three days, in the annual event that was launched at JBG offices on Wednesday.
Players of handicap 0-5 will contest in the gross category event on Friday and Saturday while the subsidiary category will feature on Saturday. An assortment of golf kit has been lined up as some of the prizes for the stable ford full-handicap format of play tournament.
Gauff Engineering Financial Adviser Dr, Ulrich Salzer (left), Managing Director Emmanuel Mugamba, Entebbe Club Chairman Twinemanzi Tumubweinee and Vice-Captain Marvin Kagoro and Engineer Kogere Rugumayo (right) parade some of the prizes at stake during the JBG Golf tournament Launch at JBG offices, October 2, 2019
This year's tournament will be played under the theme: "Engineering the future", Emmanuel Mugamba the Gauff Managing Director announced during the press conference launch at Gauff offices, attended by Gauff financial advisor Ulrich Salzer, engineer Kogere Rugumayo and Entebbe Club chairman Twinemanzi Tumubweinee and vice-captain Marvin Kagoro.
"I hope the golfers will enjoy not only the golf but also the hospitality," Mugamba said.
Engineer Kogere Rugumayo said through continuous innovation they were seeking to make life easier for everyone through civil engineering.
Kagoro said what was once a sponsorship of the event has turned down to be a relationship with the sponsors which they are going to maintain for so many years.
"The prizes have never been smaller and no other sponsor gives us better prizes than in this tournament, so there is a lot of prizes and entertainment on the day," Kagoro said.
"They have done a lot on the course, on the club and for junior golf development at the club"
Garrett Chen, Eva Magala, Joel Basalaine were the top players last year in the different categories while Isaac Marriera was the seniors' category winner.
Day-one results (Top ten)
Herman 'Deco' Mutebi 67
Silver Opio 69
Abraham Ainemani 70
Saidi Mawa 71
Ronald Rugumayo 71
Emma Ogwang 72
Richard Baguma 72
Robert Oluba 73
Vincent Byamukama 73
Brian Toolit 73