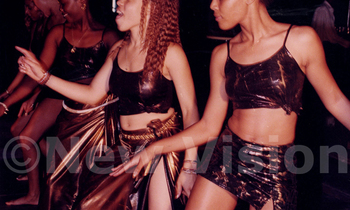 Congolese based musician Dan Engobo's queen dancers entertain the press at Kaos, IN November 2000
MUSIC CONGO
Congolese musicians have ruled over the Ugandan concert scene during two eras and they were twice driven out of town fairly by Ugandan musicians upping there game.
Bozi Boziana
But will Ugandan artistes hold the fort strongly enough to beat off the third invasion by Congolese or other performers from outside?

The Congolese invasion in the early sixties saw them dominate the Kampala's night space as instrumentalists playing both Lingala and also backing the nascent Ugandan local pop industry.
Congolese Soukous star Dan Engobo entertaining revellers with some of his queen dancers at Kaos bar November 2000
Uganda's kept learning from the Congolese. Some Ugandans who became legends like Hadija Namale and later Philly Bongoley Lutaya actually apprenticed in Congo and Lutaya even had occasion to learn under the master himself Franco of the TP OK Jazz band.

These and other Ugandans with time developed the Ugandan Rumba genre and dispatched the Congolese back where they came from. Those who stayed became localized and several have been buried Uganda leaving behind Ugandan families.
Extra Musica performing at Sabrina's pub on April 13, 2001

In the tough seventies, disco almost took over the entire entertainment scene, with local talent also persisting. That was the time Afrigo Band grew and the great Franco reportedly asked them why they continued playing Congolese songs with more perfection than there original creators instead of concentrating on nurturing there own style.
Extra Musica's dancer performing at Sabrina's pub on April 13, 2001
In the late 1970s, the Ebonies were born and wowed Ugandans reducing the admiration for Congolese music somewhat. Some occasional big Congolese stars or Zairean as the changed country's name became, staged a few concerts in town. These included Mpongo Love of the Ndaya fame, who was virtually a guest of the state.
General Defao, a Congolese musician addresses a press conference Feb 13, 2000.

The dictatorship in Zaire was also tough for musicians and many continued to try there fortunes in the region, with the great Orchestre Les Mangelepa forming in Nairobi. The even tougher early 1980s were hardly favourable for visiting performers.
Kanda Kid excited Club Silk loyal revellers August 1997
The Mangelepas ventured in Kampala but the highly billed show which was oversubscribed at Lugogo turned rowdy by the concert starved crowd and there was virtually no show for which the people had paid so expensively to attend.
Le General Defao and his queen dancer performing at Sabrina's Pub on 3rd March 2000

When peace returned to Kampala after in 1986, the Congolese musicians started returning to town with a vengeance. Promoter Tamu Kati became a star of sorts himself, taking Congolese musicians to different countries including Kenya and Uganda. Once again they ruled the concerts until the late nineties when things changed. Actually the change started in the mid-1990s.
Le General Defao performing at Sabrina's Pub on 3rd March 2000
When the radio airwaves were liberalized, the first stations did not engage in much journalism. They were more into entertainment and they did a great deal promoting local music.
Tamukati Ndogala (seated) with Kanda Bongoman in Uganda in December 1997
Radios Sanyu and Capital should be given credit for the great revival. Ugandans rediscovered there musicians and the younger artistes who joined the industry did not disappoint.
Zaiko Langa Langa's queen dancers entertain fans at Sheraton Hotel on Friday 22, 1996
Although the big names like Tshala Muana, Madilu, Kanda Bongoman, and Kofi Olomide remained big, the Ugandans embraced the national musicians more. The situation still obtains but the question is for how much longer?
Zairean musician Arlulus Mabele (middle) dancing with members of his band during a performance at Little Flowers on May 1, 1997