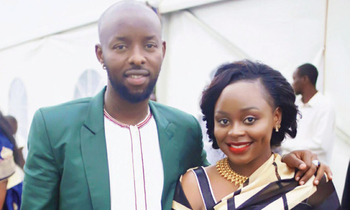 ENTERTAINMENT REMA SSEBUNYA KENZO
For the first time in two months, musicians Rema Namakula and Eddie Kenzo have spoken to each other on phone.

It is allegedly believed that the two former lovers have not been in contact ever since Rema publicized her new relationship with Dr. Hamza Ssebunya.

It was around August 31, 2019, when the ex-lovers' fans were shocked when they landed on Rema's photos displayed all over Social Media together with Dr. Ssebunya - a medical doctor (Gynaecologist) at Mulago National Referral Hospital Kampala.

Rema and Ssebunya are currently preparing to hold there traditional marriage ceremony slated to take place on November 14, 2019.
Rema and Ssebunya
Last week on Saturday, Kenzo's daughter Maya Mirembe Musuuza whom he fathered with Tracy Nabatanzi marked her eighth birthday that was organized by her mother.

Kenzo, however, did not attend the colourful ceremony of his daughter that was held at Speke Apartments opposite Hotel Africana in Kampala. But Rema attended and also contributed to it's success.

It was at this ceremony that Kenzo called on the phone to talk to his daughter. He took the same opportunity to speak to Rema through "WhatsApp video".

It was revealed that Kenzo also appreciated the care Rema gave to his daughter while she was staying with her.

"Rema, thank you for loving our daughter Maya. Please keep up that the love and care because Maya knows that you are her mother," Kenzo said.

Kenzo applauded everyone who attended the birthday party.

Mirembe is currently staying with her mother Tracy Nabatanzi.

Three cakes were cut that day. The cakes were from Rema, Nabatanzi, and Kenzo.

Rema first posted the birthday wishes message on her Facebook page congratulating Maya upon her eighth birthday.

"On this very day, 8 years back a beautiful, intelligent and kind supermodel was born. Maya Mirembe Musuuza. May Allah protect and guide you always. Love you. Happy birthday ka maama," read a post on Rema's Facebook page.
Related story