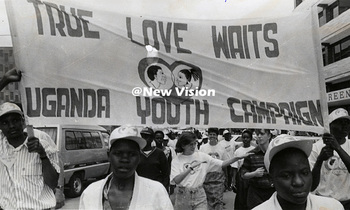 A COMMITMENT UNDER THE LENS

You likely are in your late thirties or above, lived in Kampala, were going to an elite or 'city' secondary school, if you have any recollections of the third-term holiday annual youth conference at the Kampala International Conference Centre in the 1990s.

You more likely attended the conference if titles like 'Musumba DJ', 'Limit X'; if names like Ken Sserukenya or terms like "Young and Free" ring a bell.

You most likely participated if you recall the haunting, patronising glare of the bold black wording on the yellow 'True Love Waits' card that beckoned your commitment to virginity.

'Believing that TRUE LOVE WAITS, I make a commitment to God, myself, my family, my country, my friends… to be sexually pure until the day I give myself to my marriage partner…'

You certainly were in attendance if you signed that card. But . . . did true love really wait?


For the typical urban youth of the early and mid-90s, third-term holidays were defined by the youth conference; probably the biggest rendezvous for the young, restless souls of Kampala; where fashion and friends ruled the day.

A true escape from the boring, restricted routine of home, where many made new friends and roaring fashion statements.

But it was also a place where some religious leaders, with support from the government and the First Lady, Janet Museveni, sought to reach out to the future leaders with important messages about abstinence from sex, leading healthy productive lives and the dangers of HIV.

Seeking to hold the interest of the youth, the conference organisers combined Christian teaching with cool gospel music and celebrity talks on valuing health, delaying sex and cultivating healthy relationships.


Christian themes were laced with musical interludes from 'cool' gospel artistes like Ken Sserukenya, Limit X and talks from the famous 'Musumba DJ' - now Pastor Martin Ssempa, whose pitch-black mane of curly hair has since disappeared.

As part of the conference, all conference attendees signed yellow pledge cards, committing to keep themselves sexually pure until they gave themselves only to their marriage partners.

Did the cards mean anything? Did anyone fulfil the commitment?

Some attendees have since lost the cards and some of those that signed them admit having failed on their commitment.

Others have even forgotten the messages. But many do remember dancing to the cool beats of Limit X's Malibongwe, the saggy jeans and the French cut hairstyles that ruled the days.





ALSO RELATED TO THIS STORY

Is abstinence such a hard thing to do?

Mityana bishop rewards virgin couple

'No sex before marriage' stops in church corridors

I am 28, my boyfriend wants sex before marriage

No man will push me into sex before marriage