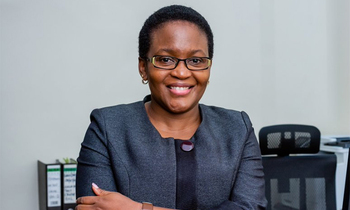 The appointment of Proscovia Nabbanja as the substantive chief executive officer (CEO) at the Uganda National Oil Company (UNOC) has been welcomed by the private sector as a sign that activity could start to pick up following an impasse that has affected the sector.
The level of activity in the petroleum sector has slowed significantly over unresolved tax issues. Nabbanja's appointment takes effect today (Tuesday).
"The board of directors is confident that Nabbanja's appointment will propel UNOC to greater heights, given her vast knowledge, drive, enthusiasm and experience in the petroleum industry," Emmanuel Katongole, the UNOC chairperson, said in a statement on Monday.
"Nabbanja is tasked with ensuring UNOC becomes a profitable company that brings value to its shareholders," he added.
UNOC was set up by the Government in 2014 to investigate and propose new upstream, midstream and downstream ventures initially locally and eventually internationally.
Hitherto, Nabbanja, a Makerere University-trained geologist with 17 years in the sector, served as the firm's acting CEO and chief operating officer (upstream).
As UNOC's top boss, Nabbanja will be tasked with ensuring sustainable growth of the oil and gas sector, through strategic partnerships and champion national participation in the sector.
She holds a bachelor of science degree in chemistry and geology from Makerere University, and a master's of science degree in petroleum geoscience from the UK's Imperial College of Science, Technology and Medicine.
Nabbanja also has a Master's in business administration degree from the UK Imperial College Business School and a diploma in petroleum management and operations from PETRAD, Norway.
She replaces the first CEO, Dr Josephine Wapakabulo, under whose tenure UNOC set up two subsidiary companies — the Uganda Refinery Holding Company Ltd that is responsible for refining and petrochemical businesses and the National Pipeline Company (U) Ltd.
The pipeline company is responsible for the pipeline and downstream storage ventures.
Tony Okao Otoa, the Stanbic Bank Uganda head of enterprise development and business incubator, said Nabbanja's appointment is proof that Uganda has locals with the required calibre of talent to fill the top jobs in the petroleum sector.
"Unlike her predecessor, Nabbanja has been in the sector for a longer time. She understands the sector and is knowledgeable. I have confidence in her," he said.
Nick Mugira, the CEO of Inspecta Africa Limited, a local firm that services wellheads and oil rigs in the Albertine region, said Nabbanja's appointment will improve the confidence of the sector's stakeholders.
"With Nabbanja coming on board, the level of activity in the sector should increase, because UNOC is involved in several joint ventures that cannot easily proceed without a substantive CEO," he said.