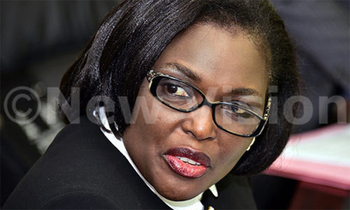 MUKONO - Land probe commission chairperson Justice Catherine Bamugemereire, has queried the motive behind a retracted witness statement in the dispute over land near the new Jinja Nile bridge.

On Wednesday, the commission was stunned when Mpumudde/Kimaka area land committee(ALC) chairperson Rose Kitimbo, retracted a statement she made on Tuesday.

The 13-acre strip, registered as Plot 24B Kyabazinga Way, Nalufenya, is a subject of dispute between Thumar Jay Manglal Patel and Tirupati Development Limited.

Tirupati petitioned the commission over purported fraud, which prompted investigations into how Patel acquired leasehold, yet Tirupati had an existing 25-year lease.

Prior, Kitimbo had disowned a report that endorsed grant of land to Patel.Tasked by deputy lead counsel John Bosco Suuza to explain her role, which he described as dubious, Kitimbo accused Jinja Municipality West MP Moses Balyeku of undue influence.

Kitimbo had also claimed she signed documents in her capacity as chairperson, and not as ALC member.

But yesterday, she retracted, saying the gigantic impression she had of the commission, compelled her to lie.

"I told lies because this is the first time I am appearing as a witness at this commission. I was gripped with immense fear. I beg to retract and tell the truth," stated Kitimbo.

Bamugemereire wondered whether she had been coached by high profile personalities, linked to the saga.

"Unfortunately, you have not given us reason to believe you. This is not a game. I do not see a forthright person. I see a person who went to sleep and got phone calls from some powerful people and now you come and change your statement," stated Bamugemereire.

Kitimbo responded, "I had fear yesterday. This is an intimidating atmosphere. I am telling the truth."

But Bamugemereire cautioned, "whatever Dutch courage you have this morning, it will not be good for you. Check yourself and see. A thief has 40 days. These curses can land you somewhere in a place called the university of understanding. You are better off with what you said yesterday(Tuesday)."

Documents

Documents show Jinja Municipal Council(JMC) granted Tirupati a 25-year sublease for starting October 31, 2007. JMC had the head lease, having obtained it from Jinja District Land Board.

Patel's freehold title grant is dated August 2, 2019. Jinja Municipality West MP Moses Balyeku has since testified and backed Patel's title as genuine. But JDLB says it did not approve the grant to Patel

On August 29, Balyeku testified and stated that he personally paid a total of sh2.4b to several persons who had authentic titles to several plots on the land.

Tirupati, which owns Ovino Mall, and Tirupati Mazima Mall, had planned to construct a shopping mall and recreation park, while Patel's had expressed interest in setting up a shopping mall. ENDS

The legislator is Patel's business associate.