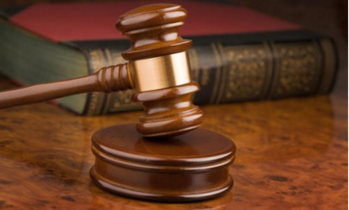 JUSTICE CRIME
KAMPALA - A senior army prosecutor has told the court that the General Court Martial(GCM) has powers to prosecute city businessman Sam Buchanan because he was found in unlawful possession of a firearm.
Col. Richard Tukacungurwa, the legal advisor to GCM chairman, Lt.Gen. Andrew Gutti said Buchanan was not authorised to possess the firearm (pistol) and ammunitions, which is a monopoly of the defence forces.
"The army court has powers to try any person subject to military law by virtue of being in unlawful possession of arms, ammunition or equipment ordinarily the monopoly of the Defence Forces under the Uganda Peoples' Defence Forces Act 2005," he argued Wednesday afternoon.
The Civil Division of the High Court was on Tuesday presided over by Justice Musa Ssekaana.
On September 2, Buchanan, the chairperson of Great Stickers International, which promotes professional kicking boxing, petitioned the Civil Division of the High Court, seeking to block his trial on charges of unlawful possession of a firearm and ammunition, at GCM.
Buchanan asserts that GCM, like other military courts, is an organ of the army and a Quasi-judicial body with limited jurisdiction intended to ensure operational efficiency and discipline of officers and militants of UPDF but not vested with jurisdiction to try criminal cases.
Tukacungurwa, however, contends that Buchanan's application is misconceived, frivolous, vexation and an abuse of court process and does not merit the orders sought.
"Buchanan's application is incompetent and or incurably defective and I pray it is dismissed and or struck out with costs," he submitted
Tukacungurwa added, "The charges against Buchanan were preferred by GCM prosecutor in accordance with the law."
He asserts that Buchanan shall suffer no injustice for his continued trial at the army court.
Three lawyers led by David Mushabe represented Buchanan while the Attorney General by Johnson Natuhwera.
The judge, Ssekaana directed Buchanan's lawyers to file written submissions by September 30, to which AG will reply to by October 5. He will base on the submissions to give his ruling on December 6.
On August 20, 2019, Buchanan was arraigned before the GCM and charged with unlawful possession of a firearm and ammunition. Buchanan denied the charges and he was remanded to Kigo Prisons.
The offences attract a maximum sentence of 10-years-imprisonment, on conviction.
Subsequently, he petitioned civil court, seeking proceedings against him at the army court terminated.
Buchanan argues that charges preferred against him under the UPDF Act constitute illegality, hence a nullity.
In his affidavit, Buchanan states Uganda Police Force (UPF) and UPDF committed a legal error by entertaining the charges preferred against him at the army court.
He contends that Tukacungura committed a procedural and legal irregularity by failing to advise the GCM panel about the quasi-judicial limited jurisdiction of the court on handling criminal matters.
"The mistake of the judge advocate's failure not to properly advise GCM was detrimental to the applicant's fundamental legal rights, "reads part of the court documents.
Arrest
Last month, Buchanan was arrested at Fancy Hotel in Munyonyo after he had gone to meet his business acquaintances.
He reportedly came across three other suspects who were locked up in a Sudanese registered vehicle arguing over a gold consignment and was arrested after he tried to intervene in the matter by the Chieftaincy of Military Intelligence (CMI).
Among the cases currently being investigated by CMI include a $300,000 case reported against Buchanan by Libyans who claim he duped them about the late Muammar Gaddafi gold deposits which he was aware of and another case involving South Korean nationals.
CMI is also investigating allegations that he is linked to the death of Belgian national Eric Yvomr, 54, who committed suicide at Vermigo apartments after reportedly losing billions of shillings in fake gold deals in May this year.