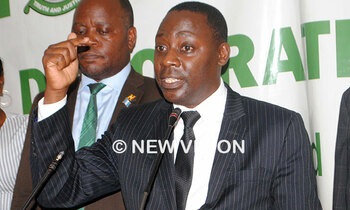 POLITICS
Democratic Party (DP) wants the donor funding to be channeled to political parties directly.
Most of the donor funding should be directed towards supporting democratic practices and electoral legal framework.
Michael Mabbike, the DP bloc principal noted the 45% budget support to government from the donor countries must be tied to comprehensive political governance reforms in Uganda.
"The donors should insist that the money they are paying is tied to political reforms," Mabbike said.
Speaking during the DP weekly press briefing at City House Kampala on Tuesday, Mabbike noted that donors should also facilitate the smooth process of transfer of power by President Museveni to the next leader.
Among others, Mabbike asked the international development partners to support political inclusion by introducing a system of proportional representation.
"We also appeal to the Commonwealth Parliamentary Association (CPA) small branches sitting in Kampala to advocate for the restoration of presidential term limits and demarcate all constituencies in accordance to a clear population quota," he appealed
He also revealed that the Democracy and Good Governance Facility (DGF) fund has not been useful in deepening and expanding democracy and good governance.
"The facility is not supporting political actors and political parties to expand freedom and democracy rather growing NGOs that are making little or no impact in real terms of governance," he noted.
He said that yielded to the NRM opposed to direct support to political actors thus the fund is meaningless advising that it should be restructured or scrapped off.
A tough spoken Mabbike also lashed out at foreign countries to stop lopsided dealings and financing of the current regime with loans and grants.
"International development partners have conspired to commit Ugandans to debt portfolio of $15bn without a reasonable repayment plan. It is irresponsible to keep lending a country which according to the IMF report, Uganda's debt ratio of 49% to GDP unsustainable," he explained.
The Opposition party also lobbied the international development partners to ensure among others, transparency in the country's management of oil and gas resources.
"Oil belongs to Uganda, companies that want oil business must support long term stability, electoral reforms and good governance in Uganda or risk instability," he noted.
Mabbike called for the annulment of unfair oil and gas agreement entered including the pipeline and drilling.
"It is unfair that the investor in the refinery will reap 80% of the profits and 20% for Ugandans. It is unfair that Uganda will in the short run only benefit through taxing oil business and related economic activities," he said.
Mabbike revealed that in contrast, Kenya retains 100% ownership and control of its oil resource. "The US, UK and China must tie the final investment decision to comprehensive political and electoral reforms," he said.
Samuel Lubega Mukaku a DP bloc Principal urged the international development partners to stop support to Uganda's open-ended/ blanket refugee policy.
"There is need for border control. Support the enactment of a refugee policy rather than praise regime for its open-ended policy and magnanimity," he said.
Lubega also called for the sanction of both regime leadership and operatives for the gross abuses of rights and freedoms.
"The leaders who issued orders and operatives who carry out such orders must be sanctioned," he said.
DP also called upon the Commonwealth Parliamentary Association (CPA) to take trough actions on Uganda over gross abuse of human rights, murder and corruption.
"Zimbabwe was suspended from the Commonwealth of Nations after the country's 2001 elections were found to be flawed by electoral observers. This should apply to Uganda also," Lubega said.
He explained that in Uganda the elections were marred by politically motivated violence, transgression of freedoms, army attacking the parliament and judiciary being overtaken.
"Uganda should be suspended from the Commonwealth of Nations' club and it was unlawful to allow Uganda host the parliament," he said.
Four countries have been suspended from the Commonwealth since the inception of the device in 1995: Fiji, Nigeria, Pakistan, and Zimbabwe. Fiji and Pakistan have each been suspended twice, and Zimbabwe has withdrawn permanently from the Commonwealth, whilst Nigeria has rehabilitated entirely.