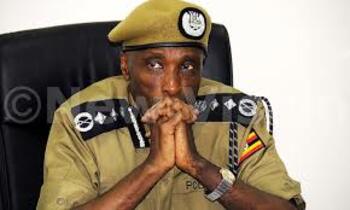 SECURITY
The Internal Security Organisation (ISO) Director General Col. Kaka Bagyenda has spoken out about reports that Ugandan Security agencies participated in conspiratorial plots to criminally frame and influenced the US to issue sanctions against former Inspector General of Police Gen. Kale Kayihura.
Bagyenda in an exclusive interview with Sunday Vision in Nakasero noted that he was one of the unhappy people after reports about sanction on Kayihura and his family were made public on Friday last week. He denied reports that he was part of a clique of army officers who had planted multiple allegations against Kayihura and participated in conspiratorial plots to criminally frame him.
"Why would he think that I came all the way from Kalangala where I was on retirement before being appointed the head of ISO to plan for his downfall. I have never had any conflict with Kayihura and I am one of those people who are very unhappy with the sanctions," Bagyenda noted.
Bagyenda also spoke about his relationship with Kayihura noting that Kayihura was not being honest about the engagements they had shortly after he had been appointed ISO boss.
"I can tell you that the few times I interacted with Kayihura when I had just been appointed all went on well. I even shared some sensitive information with him and yet that was not meant for him. If he was only honest enough he would reveal a lot," Bagyenda noted.
Bagyenda noted that when he was sharing this information he thought he was sharing it with a colleague who was overwhelmed by the sheer level of lack of good cadres in the Police. "At certain time I even felt that maybe the President had given too much attention to the army and forgotten about the Police," he stated.
Last Friday the US Government announced sanctions against Gen. Kayihura citing evidence of serious human rights abuse against Ugandan citizens, corruption and torture. It also announced it had denied visas to Kayihura and the restrictions also extended his family including his spouse Angela Umurisa Gabuka, his daughter Tesi Uwibambe, and his son Kale Rudahigwa.
In a statement issued by the Secretary of State Michael Pompeo, The US noted that, "the Department has credible information that Kayihura was involved in torture and/or cruel, inhuman, or degrading treatment or punishment, through command responsibility of the Flying Squad, a specialized unit of the Uganda Police Force that reported directly to Kayihura."
On Saturday last week, Kayihura referred to the US statements as, baseless, unverified and outrageous.
"I am accused that while I was working as Inspector General of Police (IGP) in Uganda, I engaged in Human Rights violations, corruption, and smuggling drugs, gold and wildlife. This is not only absolutely false but outrageous and infuriating, especially that these accusations and decisions have been made without according me an opportunity to respond to them, whereby I would give evidence to the contrary," the former police boss stated. He noted that the accusations were part of plans by some elements within Uganda who were targeting to tarnish his name.
The ISO boss noted that Kayihura was shocked to learn what he (Bagyenda) later on learnt about him from interaction with some of the people he had worked with. "I was not the only one who was shocked about him but President Yoweri Museveni who had appointed him IGP was even more shocked with the revelations about Kayihura," Bagyenda said.
He noted that some of the confessions about Kayihura and the other arrested senior police officers who included Senior Commissioner of Police Joel Aguma, Senior Superintendent of Police Nixon Agasirwe and five others were not fabricated. "We did not coach any of the witnesses to implicate them in the crimes they had committed," Bagyenda noted.
Kaka denied claims by Kawempe North Division Member of Parliament Latif Sebaggala and Arua Municipality counterpart Kassiano Wadri raised on the floor of Parliament that ISO was running safe houses in which they were torturing suspect.
He also claimed that some of the alleged victims of torture who later appeared before the parliamentary committee on Human Rights and narrated harrowing tales were paraded by some political elements who wanted to achieve their own selfish motives and that this would not derail him from in ensuring the security of the country.
The ISO boss admitted that ISO operates some safe houses but noted that they are for keeping suspects safe but not torturing them. He also noted that the politicians and lawyers were out of touch with reality and that times will be the best judge.
"Those that are criticizing are out of touch with reality. Some of them have been part and parcel of what the mess that was going on. When they hear the name Sobi they start getting worried" Kaka said.
He noted that some young men like Sobi had been interchangeably misused by various actors who included politicians and businessmen for subversive activities.
Related stories
Museveni speaks out on Kayihura USA sanctions
Gen. Kayihura rubbishes US sanctions against him