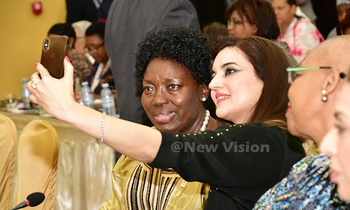 64TH COMMONWEALTH PARLIAMENTARY CONFERENCE

KAMPALA - On Tuesday, the female delegates who attended the 6th Triennial Commonwealth Women Parliamentarians discussed bullying and harassment by their male counterparts in Parliament, among several other issues. Shandana Gulzar Khan from the Pakistan National Assmebly was elected as the chairperson of the Commonwealth Women Parliamentarians.

There was also the CPA Small Branches Conference, during which Niki Rattle, Speaker of the Parliament of the Cook Islands, was elected the new chairperson.

Here is a look at how Day Three transpired in pictures . . .


Uganda's National representative for PWDs, Safia Nalule, advised women MPs from other Commonwealth states to learn from Uganda and adopt the gender and equity compliance certification.




MP Lisa Cameron from the UK added her voice to empowering women with disability.




Youth MP from Free State Legislature (South Africa), Karabo Khakhau, spoke strongly against sexual harrassment in Parliaments. She said the call for women to dress decently should also go to men, urging them to exercise restraint while interacting with women.