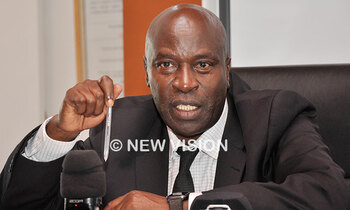 EDUCATION
Due to the increasing population of the students that qualify to join universities in Uganda, the university has discussed with the Council for High Education to open up regional learning centers.
About 29,000 students applied to join Kyambogo University out of the 42,000 students who qualified to join universities after the Uganda Advanced Certificate of Education.
This makes Kyambogo University the number one preferred destination for students to pursue higher education.
However, the purpose of opening up these centers is to decongest the university at the centre, giving an opportunity to many Ugandans to access higher education said, the vice-chancellor of Kyambogo University
The university hopes to open up three learning centers in the east, west, and northern Uganda with two being opened already in the west and east.
While addressing the media at Kyambogo University, Prof. Eli Katunguka Rwakishaya said that so far two centers have been opened up in Bushenyi and Soroti.
These centers are registering growth and are offering service courses and regular university programmes, they will be institutionalised into the university system.
The university has started the process of identifying a suitable location for a third centre in Northern Uganda as directed by the council.
The vice-chancellor said with this achievement, however, there are some challenges that are affecting this process.
These include lack of space that accommodates these centers, insufficient lighting around university premises, and stealing of chairs from classrooms and other sanitary facilities like taps from the learning centers
For example, there was a student who was caught vandalising chairs to take them and sell them for scrap and he was handed over to court.
But the university has discussed with the Ministry of Education and Sports and Ministry of Finance on how to improve on the lighting problem around campus.
Prof. Eli Katunguka Rwakishaya said, "thanks to African Development Bank (ADB the furniture expected from them has started arriving."
As the university business went on well, at the beginning of this years' semester, the vice-chancellor told media, "that there was a disruption that happened due to the industrial action by Associations of Public Universities."
The cause of the discontent was failure of the government to meet the presidential pledge of salary enhancement to 15million per month for every professor by the end of the financial year 2019/20.
However, the vice-chancellors of these public universities called off a meeting which resulted in a meeting with the First Lady and Minister of Education and Sports and Minister of Public Service, and the H.E. the President.
Katunguka said that the President was not aware of the pledge not being fulfilled during the meeting and His Excellency promised members of the staff associations that he will take it up himself.
And later on, these members of the staff associations following the meeting, called off the industrial action in time for the semester to progress normally without much disruption.