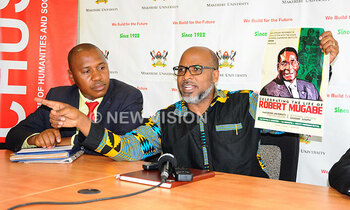 PAN AFRICAN MOVEMENT
KAMPALA-Ugandan Pan Africanists under the organization of the Pan African Movement have organized a march in honor of the Late Robert Mugabe, former President of Zimbabwe.
Dr. Martin Ssempa, a renowned member of the Pan African Movement said they would take this opportunity to celebrate the life of Mugabe and what Africans have done.
"There are those who celebrated Mugabe's death but we want to give honor where honor is due. Mugabe helped in spreading the ideology Liberty" Ssempa said.
Ssempa said they did not have the opportunity to attend the burial ceremony of Mugabe which took place in Harare however they made efforts to secure at least one Bombardier but it was not possible.
The event which will take place on Friday will be entrenched on the theme " Tracing the Footsteps of African Liberation" where the march will kick off at 2:00 pm from the Freedom Square, to the halls of residence of Nkrumah, Africa, Lumumba, University hall, Mitchell Hall and back to the Freedom Square.
A combination of other activities will take place besides the march and these will include speeches and music among others.
Ssempa condemned the actions of those who were criticising Mugabe and forcing others to believe in their opinions saying those who thought of Mugabe as a villain should not force their opinions of him on others.
The executive director of the Pan African Movement, Daniel Rugarama expounded on the reasons why they had chosen to celebrate the life of Mugabe.
"Here is a man who gave the African person the face of who an African is. He was a member of the frontline for the liberation of South Africa." Rugarama said.
He also called out on other leaders to learn from Mugabe because if they did not do what Mugabe did, they are sitting on a time bomb.
The event will also acknowledge the achievements of Mugabe especially in liberating the mind of the African person.
Some of the invited guests that Ssempa hope will attend include the Deputy President of Kenya, William Ruto and President Museveni.