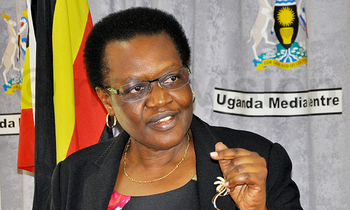 Two division chairpersons in Fort Portal Municipality have petitioned the Office of the Inspectorate of Government and the State House Anti-Corruption Unit to investigate the town clerk and mayor of Fort Portal Municipality over corruption.
The two chairpersons Herbert Mugisa of South Division and Willy Magezi Mapapa of East Division told a team of officials from the IGG's office and the State House Anti-Corruption Unit at Kabarole district headquarters recently that the Fort Portal Municipality town clerk Patrick Bamanyisa and the mayor, Rev. Kintu Willy Muhanga, had allegedly mismanaged council affairs.
They said that as a result of the duo's actions, the World Bank had decided to exclude Fort Portal from the Uganda Support to Municipal Infrastructure Development (USMID) project.
Mapapa said that the municipality had been collecting property tax from the divisions since last financial year and none of it was ever remitted to the divisions and no accountability was done.
"As division chairpersons, we have been rendered useless by the municipality. Everything is done at the municipality without our involvement and a lot of money is being diverted and as a result, people are being denied services," Mapapa said.
Bamanyisa is also accused of running the town council as his personal business and that he has even locked officials out some offices.
Mugisa accused Bamanyisa and Muhanga of abuse of office by awarding contracts irregularly without following the procedures.
"The way contracts are being awarded in Fort Portal is not good. We have contractors who defaulted on council money but because they are friends to the mayor, they continue to get more contracts under different companies," Mugisa said.
Sylvia Kihunde a senior accounts officer at Fort Portal municipal council said she had been locked out of her office because of refusing to get involved in corrupt tendencies.
"There is a lot of corruption in Fort Portal municipality and when some of the officers try to rise out the issues they isolate us and fabricate some charges against us in order to keep us out of our offices as they swindle government money," Kihunde said.
She said that she failed to access her office after raising an alarm about the rising cases of corruption.
The petitioners want the town clerk and the mayor investigated and prosecuted and a proper audit of Fort Portal Municipality be carried out.
State minister of ethics and integrity Simon Lokodo directed the Police to hunt and arrest Bamanyisa so as to record statements related to the misappropriation funds and abuse of office.
"As of now I have directed the Regional Police Commander for Rwenzori West to ensure that Patrick Bamanyisa is arrested and records a statement with the Police," Lokodo said.
While appearing on a local radio station in Fort Portal recently, Muhanga denied any involvement in the awarding of tenders and contracts in Fort Portal Municipality.
"I don't give tenders and all those accusing me are wrong. My office doesn't award tenders and contracts and I'm advising my fellow leaders to stop misleading the public with wrong information," Muhanga said.