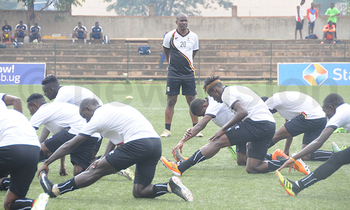 CHAN 2020 Qualifier: Burundi v Uganda Cranes
Uganda Cranes interim coach Abdullah Mubiru has urged his players to have a collective responsibility in a bid to foster cohesion in the African Nations Championship (CHAN) qualifier against Burundi today.
"The most important thing is to have one complete unit with good coordination and focus. All the players are motivated and determined so that we return with a win. There is a need for cohesion coupled with individual work for the best-desired results," stated Mubiru on Friday.
Just like Mubiru, defender Halid Lwaliwa sounded confident that they have what it takes to get a positive result.
"We have had enough training and we expect positive results. Our target is not to concede so that we finish off the job in the return leg at home," he noted.
The CHAN tournament that is exclusively meant for players who are active in domestic leagues was introduced in 2009 to revive the regional competitions regularly weakened by a mass exodus of top players to foreign leagues.
Attacking midfielder Mike Mutyaba, who returned to the national side after close to five years, will have a chance to impress just like Yusuf Ssozi and Viane Ssekajugo who made it on the Cranes team for the first time.
The return leg of the tie is scheduled for October 19 at Lugogo, Kampala, where winners will make it to the finals.
More than 20 countries engaged in qualifiers are battling for 15 places to join hosts Cameroon for the final tournament next year.