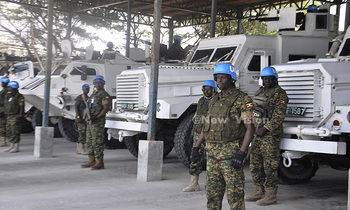 SECURITY

The United Nations Guard Unit, a Ugandan army unit that was deployed in 2014 to specifically guard UN officials and installations in Somalia, has distinguished itself in their tour of duty.

Drawn from the UPDF, the force`s role in Mogadishu is different from regular AMISOM forces.

Although they wear UPDF uniforms, they have blue shoulder and neck bands as well as blue berets and helmets. They also drive white vehicles and armoured personnel carriers (APCs) with the initials UN clearly inscribed on them.

This force was introduced in 2014 to specifically provide guard duties to the increasing number of UN personnel based in Mogadishu.


Initially, these guard services were provided by regular AMISOM soldiers. However, this was seen as diverting them from their primary mission.

The first unit was composed of over 400 soldiers. The current force, which is the sixth unit to be deployed since 2014, has 625 officers and enlisted troops, including 86 females.

The Guard Unit, led by a Ugandan commander, falls under the responsibility of the UN-designated official in Somalia. The unit is a static force and will be based at the main base in Halane, near the airport.


"We have managed to implement our duty with grace all these years, thanks to the preparation that we are given at home," says Lt. Colonel Nathan Bainomugisha, the current commander of UNGA 6.

He says the force regularly escorts UN officials into Mogadishu and elsewhere in Somalia, and has withered all possible threats.