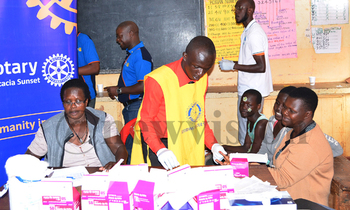 Sarah Muhamed will have some relief for the next two weeks as she is not going to spend any money on medical care.
Muhamed is not alone. Hundreds of residents from Naguru-Katali on Saturday braved the morning downpour to seek free treatment.
The residents mainly elderly and children were examined, given treatment ranging from HIV/AID test and counselling, malaria treatment, dental and blood donation among others.
Residents said that at the facility which is near their community, they pay sh10,000 before they can see the doctor; they are also given prescriptions and told to find the medicine at another location.
"I have saved a lot of money. I came with four children and they have got treatment against malaria and cough which is common these days," added Muhamed.
At a health camp organised by the Rotary Club of Kampala Metropolitan and Acacia sunset, the residents were able to raise their concerns among which was the lack of medicine in government-owned hospitals.
The president of Rotary Club of Acacia, Ronnie Mulindwa noted that during the Family Health Day, the members of the club give back to the community and offered free medical care.
Mulindwa said that they target to reach out to 500 communities members from Naguru, Naguru Katali, among others, adding that last year they treated 400 residents.
He explained that Rotary Club of Acacia Sunset and Kampala Metropolitan during its annual programs are given the platform to extend services to the needy and unprivileged communities that face challenges of accessing available traditional healthcare services.
He said soon the club will adopt a village, which will be a centre where they will help child-headed families, abused children and drug abuse affected youth.
Mulindwa said soon they will have a permanent water source for the community since water is one the main problem causing diseases in the slums.