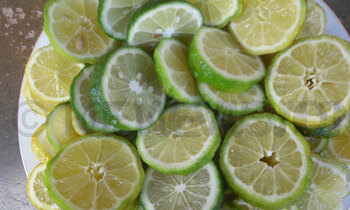 HEALTH NUTRITION
Lemon fruits are eaten and enjoyed by everyone, mostly because of the juice that comes out of them.
Some people prefer eating juicy pieces, outer peelings well as others squeeze and enjoy their juice. Budding lemons have a green peel and the ripe ones have a yellow rind.
Both the budding and the ripe lemons are beneficial to our bodies for they improve immunity; reduce on the risk of heart diseases, digestive issues, and cancer according to Peterson Kato Kikomeko, a nutritionist working with Kyambogo University.
Kikomeko adds that the benefits of consuming lemon accrue from the nutritional content of the fruit, for lemons are a good source of vitamins which include C, Niacin, folic acid and minerals which include potassium, calcium.
In addition, Kikomeko says lemons are good sources of dietary fiber and a number of non-nutritional chemicals claimed to have disease preventing properties.
"Vitamin C, in particular, is a primary antioxidant. Antioxidants help to detoxify the body by removing potentially oxidizing agents also known as free radicals. If left to accumulate in the body, free radicals are known to contribute to heart diseases and some cancers.
Free radicals can be consumed through eating spoilt food or highly processed foods or can be formed when the body breaks down foods or when the body is exposed to radiations and tobacco smoke," Kikomeko explains.
Additionally, Kikomeko says Vitamin C helps to prevent infections through boosting the immune system. When the food consumption is accompanied by the intake of lemon, it helps in making dietary iron more readily available for absorption.
Cris Mwanje, a nutritionist says lemons are not only healthy but have a very distinct, pleasant smell, taste and can make a great addition to meal and drinks which include baking and food flavorings.
He adds that lemons are organic in that they are compatible with the body enabling them to improve digestion.
How lemon should be eaten
Israel Jjombwe, a nutritionist at Mulago hospital explains that a person can decide on the way he wants to take it, either through drinking it as juice or lemon slices but it's better for the lemon to be eaten in the morning because it increases the rate of metabolism which is the rate at which food breaks down in the body to produce energy.
Additionally, Kikomeko says lemon can be eaten a whole or juiced in water based on preference. He however adds that eating the whole fruit ensures that you get maximize opportunities for having numerous healthy benefits. Lemon can be eaten in the morning after taking a glass of water, before or after meals.
In the morning, one could juice the lemon in warm water and take it to help the digestive system moving.
Side effects of lemon
Kikomeko says while lemon has a range of health benefits, there a few side effects, for instance, the high content of citric acid in lemon may be chemically irritative to someone with ulcers in the gastrointestinal tract "Lemons are contraindicated because of the high citric acid content which increases ulcer pains," Kikomeko adds.
Mwanje says "if too much of the lemon is consumed, they can worsen gastroesophageal reflux disease, which is the condition where the acid in the stomach leaks out through the gullet.
Related stories
A healthy way of taking your meals