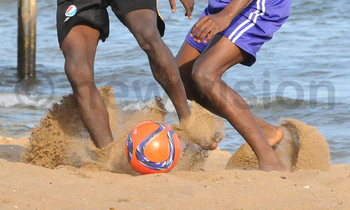 National Beach Soccer League
Isabeti 7 Kiringente 2
Muteesa 1 Buganda 8
St Lawrence 9 MS Sand 0
Mutoola 5 Wolves 2
Swalley Simba was on top of his game as St Lawrence University extended its lead in the National Beach Soccer League standings.
Simba scored four times as the defending champions thumped MS Sand Lions 9-0 on Sunday at Lido Beach, Entebbe to move to six points atop of the standings.
Sulaiman Ochero and Emma Wasswa added a hattrick and brace as St Lawrence maintained their unbeaten run.
Elsewhere, former champions Isabeti defeated league entrants Kiringente 7-2 while Muteesa 1 Royal University went down 8-1 to Buganda Royal.
Mutoola Beach Soccer Club beat newcomers Wolves 5-2 in other game played over the weekend.
In a related development, MUBS, Nkumba University, Real Galacticos and Stormers have been removed from league pending a Uganda Beach Soccer Association decision on the matter.
This comes after the clubs failed to submit their player registration requirements despite being given time to do so.