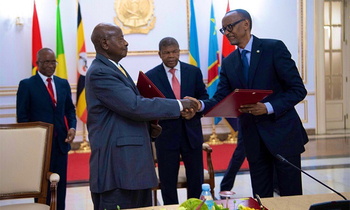 DIPLOMACY

Following high-level political talks between President Yoweri Museveni and his Rwandan counterpart, Paul Kagame, in Luanda, Angola last month, the Ad-Hoc Commission team from Uganda will next week travel to Kigali for harmonisation of the implementation process of the accord.

According to government spokesperson, Ofwono Opondo, Uganda's team will be led by the Sam Kutesa that foreign affairs minister.

"A meeting of the Ad Hoc Commission for the implementation of the MOU will be held in Kigali, Rwanda on Monday, September 16, 2019. Hon. Sam Kutesa, Minister of Foreign Affairs, will lead the Ugandan delegation to that meeting," Ofwono said in a press statement issued on Thursday.

After months of high-level political dialogue, last month Museveni and Kagame, signed a memorandum of understanding on regional cooperation and security, setting the pace for the improvement of political and trade relations between the two countries.

According to the pact, the two leaders agreed to "respect the sovereignty" of Uganda and Rwanda and other neighbouring countries.

The two leaders, the pact stated, also agreed to "resume as soon as possible the cross-border activities between both countries, including the movement of persons and goods, for the development and improvement of the lives of their population."


The agreement between Museveni and Kagame, which was signed yesterday in Luanda, Angola at the second Quadripartite summit, was facilitated by the President of Angola, Joao Manuel Lourenco and Felix Antoine Tshisekedi, the President of the Democratic Republic of Congo (DRC).

The signing was also witnessed by President Sassou Nguesso of Congo Brazzaville.

After the summit, which was a follow-up on the first Quadripartite summit that was held on July 12, the five President addressed a joint press conference, describing the event as a true depiction of "seeking African solutions for African problems."

According to the pact, Museveni and Kagame agreed to: "refrain from actions conducive to destabilization or subversion in the territory of other party and neighbouring countries thereby eliminating all factors that may create such perception, as well as that of acts such as the financing, training and infiltration of destabilising forces."

The leaders also agreed to respect and protect the rights and freedoms of the nationals of the other party residing or transiting in their national territories, in accordance with the laws of their countries.

Museveni and Kagame also agreed to comprehensively cooperate in politics, security, defence, trade, and culture in the spirit of Pan-Africanism and regional cooperation,

To implement these resolutions, the leaders agreed to establish an ad-hoc commission headed by ministers of foreign affairs and composed of ministers of internal administration and heads of intelligence, to see this through.

Since February this year, Rwanda and Uganda have had trade tensions, which culminated into Rwanda closing its border point at Gatuna.

The closure of the border has disrupted trade between the two countries. On Average Uganda derives $200m (about sh744b) annually from trade inflows with Rwanda.