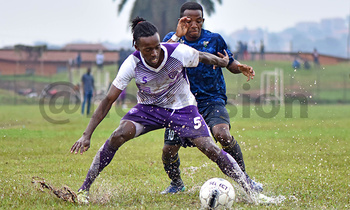 StarTimes Uganda Premier League Results
Bright Stars 1 Wakiso Giants 1
BUL 0 Busoga UTD 3

Bright Stars' winless run continued following their 1-1 draw with Wakiso Giants in the StarTimes Uganda Premier league match played at Wankulukuku stadium Wednesday.

This was Bright Stars fourth game without a win. They have lost two games and drawn twice in the league.

Tom Masiko gave Wakiso Giants an the lead in the opening minutes of the game through a penalty before Bright Stars levelled matters late through substitute Ronald Nkonge.
Bright stars' Derrick Ngoobi clears the ball as Wakiso Giants Tom Masiko goes down
Elsewhere, Busoga United dispatched BUL 3-0 in the Jinja derby at FUFA Technical Centre, Njeru.

Boban Zirituusa, Joel Madondo and Lawrence Tezikya each had a goal as Busoga United continued their impressive start to the season.

This was Busoga' first victory over BUL in seven games. Five have ended in draws while BUL had won once.

The league Will resume on Friday.
Bright stars goalkeeper Simon Tamale clears a cross