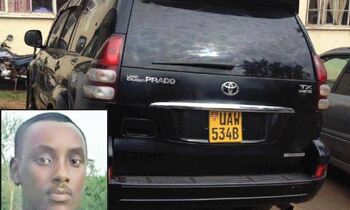 The family of the late Joshua Rushegyera Nteireho who was shot dead on Thursday night has protested a decision to have him buried at Kazo instead of Rwenjeru in Bushenyi district.

As a result, the family has resolved not to go and bury him, but wished him eternal rest.

In a statement, Martin Rushegyera, who is the heir and speaking on behalf of the Rushegyera family noted that "as a family, we thought we would lay you to rest by the resting place of your mother in Kashari or near your father's grave in Rwenjeru Bushenyi. We are disheartened that some people so powerful on your late mother's side have dictated to bury your remains at your maternal uncle's place in Kazo in total disregard of our lineage and ancestry customs. This is a very big embarrassment and disappointment not only to the Rushegyera family, but to the people of Kashari, Rwenjeru and Bushenyi district, and the Basingo Clan," he stated.

The family also noted that "the tragic demise of Nteireho, our son and brother has left the family devastated. We cannot express, in words, our heartfelt grief, Joshua you will forever remain in our hearts, especially the way the merciless killers ended your precious life in cold blood. We pray that the killers be brought to book to account for this crime so shocking,"

Nteireho was gunned down together with Marina Tumukunde at Nambigirwa Bridge in Kajjansi town council along Entebbe-Kampala expressway, as they headed towards Entebbe. Security investigations so far reveal that the two were shot by somebody who was travelling with them in the same car.

Tumukunde was seated hind the co-driver and had a bullet on the head and nothing to show it came from outside the car. The vehicle was well parked and nothing to show it skidded from the road.

A police officer Davis Taremwa has since been arrested. Police spokesperson Fred Enanga stated that "on friendly terms, Nteireho requested Taremwa who was on guard duties, at Hidden Treasure, Hotel Entebbe, to escort him to Millennium Hotel in Zana, where he had an arranged business transaction.
The officer withdrew from his beat and the 3 drove together to the Hotel. The circumstances surrounding their movement from Millennium Hotel up to the stage where the shooting occurred at Nambigirwa bridge, Mpala is still unclear. It is what the task team of investigators and forensic experts are working to determine."

Enanga says that the circumstances surrounding their movement Millennium Hotel to Nambigirwa Bridge was a puzzle. The Police were trying to reconstruct the movements to find out what exactly happened. Police recovered 3 spent cartridges and 27 bullets. They had also recovered the killer gun that belonged to Taremwa and the phones of the deceased.

"Our officer indicates that when they reached Millennium, Nteireho asked him to go and call Ssubi from inside the hotel so that they could finalize their transaction. But that when he came out, he found Nteireho had driven off together with his gun inside," Enanga said. He noted that the Policeman's statement appeared evasive and they were investigating further.