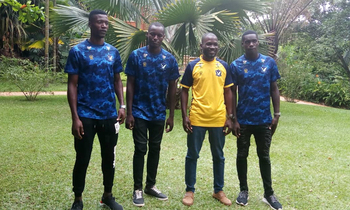 Bright Stars have beefed up their squad with new players. They include Ronald Ssempala, Hamis Gabite, and Derrick Kiggundu.
The trio joins the Wakiso based side that is without a win this season in the StarTimes Uganda Premier.
They lost to Vipers 3-1 in their first game before playing to a 1-1 draw with Express in their second encounter.
The trio who signed a two-year deal each were unveiled in Kampala by the club director Grace Kwizera. Club Coach Muhammed Kisekka, Technical Director Ian Mutenda, and CEO Mathias Mugwanya were also part of the event.
Kisekka revealed that the new players will improve the team's performance.
"They are going to add a lot to the team especially in defence and attack. I can now confidently say that we are going to start winning games since have rectified our mistakes," Kisekka said.
Ssempala who is striker with Uganda Martyrs University (UMU) has so far scored six goals in the Pepsi University Football League.
"I have a target of scoring more than five goals this season. If given an opportunity, I will make sure I live up to my expectations," Ssempala, who also scored four goals for Ssingo during the Masaza Cup said.
The new players will be expected to make their debut for Bright Stars who travel to Buikwe district this Saturday to play Busoga United in the topflight league.