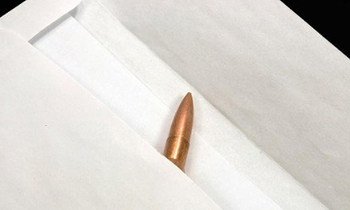 There is panic in Rukungiri after unidentified people sent two bullets wrapped in a warning letter to the Chief Magistrate of Rukungiri, Moses Kule Lubangula and four others warning them to keep off land matters in the district.
The threatening message was described by the anonymous senders as 'special gifts' to the recipients.
The letter dropped on Monday at the offices of the Resident State Attorney (RSA), Mark Mchereza, also warned lawyers Jonathan Bwazi, Mark Mwesigye and the Rukungiri district Police commander, Moses Nanoka, of dire consequences should they proceed with land cases.
Kule said he was scared and had decided to leave Rukungiri immediately to report the case to his superiors in the Judiciary in Kampala.
"I am so scared. I have reported the matter to Rukungiri Police Station and I have come to Kampala to report the matter to my superiors," Kule said.
He said he had been in Rukungiri for only one year and that he had not received any major threats against his life except an incident in August last year when his home was broken into.
Nanoka confirmed the letter had been dropped on Monday morning, but declined to divulge further details.
The letter stated: "We know where you stay. We know your office and your vehicle. We know all your family members. We warn you to leave land cases because we have been hired to
kill you if you do not keep off the cases. Your friends are also known so you have to listen to our demands. These bullets are yours and we have already been paid." Kule said his next course of action would depend on his meeting with the Chief Justice Bart Katureebe.
Daniel Byaruhanga, a lawyer with Tumwesigye, Baingana and Co. Advocates, urged those using intimidating mechanisms to better use the law other than their illegal means to get justice.
"The magistrate hears cases which are registered in courts by either the litigant or their lawyers. The lawyers are merely approached for legal counsel. Threats against magistrates and lawyers when there are procedures under the law which can be followed, are uncalled for," he said.
In July this year, Isaac Sendegeya, a 37-year-old lawyer, who had a law firm in Kisoro, was shot dead at the doorstep of his home. There were reports that his murder was linked to a land case he was handling. Several suspects have since been arrested and arraigned in courts of law.