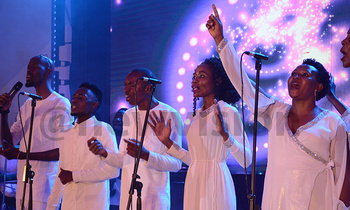 Covenant Nations Church choir. PHOTOS: Timothy Murungi
Making African Music continuously more impactful are the places of worship. On Friday night, Covenant Nations Church in Luzira, a Kampala suburb, hosted its first live audio video recording and album launch of covenant music.
Pastor Patience Museveni Rwabwogo disclosed that her Covenant Nations Church has embarked on a journey to create an authentic platform for African music to win more people to believe in God.
For her music has a big reach and for centuries, music has been breaking barriers and opening minds more than just mere talk.
Pastor Patience Museveni Rwabwogo reading a scripture
Daniel Murungi aka DANI, the worship Director at Covenant Nations Church says music is a gift that everyone should use to glorify God. Here are pictures from the launch of the album Deeper than a song.
Worshippers
The choir
Pastor Rwabwogo prays