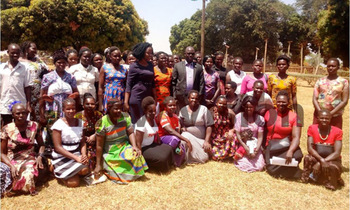 CONFLICT LRA VICTIMS
Arua High Court has ordered the Attorney General to verify Lord Resistance Army victims in Adjumani district.
The victims that have registered with the LRA victims association so far are 18,000. These are claiming compensation.
The LRA war started in 1987 and an estimated 1.8million people were displaced and others killed.
The government of Uganda referred the case to the International Criminal Court (ICC) in 2004 which issued arrest warrants against rebel leader Joseph Kony and his top commanders Vincent Otti and Dominic Ongwen.
However, Joseph Kony, the LRA rebel leader is still at large and Otti has been reported dead.
The resident Judge, Arua High Court Anthony Ojok Oyuko issued a court order for the compensation of victims that lost their relatives and properties that included crops and animals during the 20-year-old insurgency.
"The Attorney General needs to get on ground and find out the number of victims that should be entitled to compensation before the final verdict", he said.
He gave three months for the Attorney General to compile the list of the victims together with copies of their national identity cards and letters of administration for those that lost their relatives.
"As soon as the list is produced, they should carry out verification of the victims to eliminate fraudulent claimants", the judge said.
The victims are represented by Alex Bashasha and company advocates.
One of the victims Santos Eruaga Piro said they lost a lot of properties that need to be compensated.
"Government has never bothered to register and compensate us yet in other regions of Teso and Acholi have been remunerated", he said.
Eruaga said they decided to drag the Attorney General to court in April 2017 due to government's compensation delays that had caused anxiety among the victims.
He said he also lost his buses that were plying from Arua to Kampala during the war.
Justice Oyuko adjourned the case to 19th December this year for scrutinising verification documents.
Related stories
Parliament approves support for LRA returnees
Gov't to register children born during LRA war