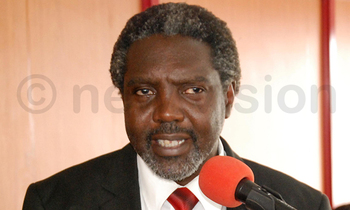 The Uganda People's Congress (UPC) president, Jimmy Akena, has regained his membership with the Milton Obote Foundation (MOF).
Akena was stripped of his MOF membership after being accused of overrunning the party headquarters with his campaign team in 2017.
According to the body instituted in honour of his father also UPC founder, Apollo Milton Obote, Akena and his group were faulted for taking over the party offices and pinning Akena's pictures.
Addressing journalists at a weekly party press conference in Kampala on Wednesday, the party spokesperson, Micheal Osinde, revealed that Akena had been reinstated by a court order.
"We are happy that justice was delivered by the High Court in our favour and our president was reinstated as a Milton Obote Foundation member after finding it that he was illegally terminated," Osinde said.
Osinde said that the court found it necessary to restore Akena on grounds that the assembly that dismissed him was not an independent judicial process hence prejudicial to him (Akena).
"Court found out that Akena was dismissed in his absentia with his mother Miriam Obote also in Tanzania on official East African Community duties. He wasn't even given prior notice as our party constitution states in clause 11," he added.
Osinde expressed concern that some MOF members, majorly Terence Oyepa and Nelson Ofwono, opposed party activities and work being conducted at the party offices.
"Some members of MOF and the economic arm of UPC are fighting the party activities through numerous court cases, the propaganda of misinformation as well as evicting UPC leadership from Uganda House. They even told us to stop wearing party colours. This is really ridiculous," Osinde said.
He added that sh400m was confiscated from one of the party accounts in Orient Bank saying: "this was unlawfully done and the matter is pending judgement in court."
Osinde said the fights are costly to the party and consume its meagre savings but he vowed to use all legal means to make UPC the strongest party in the country
According to Osinde, MOF summarily suspended and drastically terminated the Akena's membership on falsified contentions of malice.
Akena was ousted on allegations, that he was suspected of taking legal, political and administrative power of Uganda House yet it housed MOF and UPC offices.
"It is these false allegations that prompted us to drag MOF to court for drastically terminating the membership of UPC president. How can they oust Obote's son, yet he (Obote) was the founder of all these?" Osinde said.